Helloooo

hope everyone is ok

So i came across a great way to get the points we needs to random things here.. I will be takin affiliates news as always, to poste here in a blog in exchange
of 20

per group or artist.
We are a large group so our publicity will help a lot to them, so there you go.. Send  a blog about it, donate 20

to me with a note that is about this and i will post the news

have fun

FAQS:
FAQ #157:
Can I use things created by other people in my submissions?
FAQ #306:
Does "Crediting" let me use whatever I want?
FAQ #8:
What are violations of the DeviantArt copyright policy?
FAQ #155:
How do I report a deviation which I think breaks the rules?



 is looking for backers and help to spread the word in his current project!
For thousands of years, the dead have invaded the living. Now its our turn. Play as the Faekin, Magi, Psychics, Were-beasts and more.


FallenAngelGM is holding a crowdfunding campaign on his Ko-Fi page to gather enough funds to produce and publish the first chapter on independent platforms like Webtoons and Tapas!
- You can donate as small as 3$ (USD) to our Ko-Fi page at www.ko-fi.com/redronins
(or even share this link to your friends if they are interested as well.)
- You can also follow the progress of our project at our social media addresses:

HEART OF WILDFIRE: Synopsis and Character ProfilesHEART OF WILDFIRE
20 years ago, a knight named Senthann Kameiyata, also known as the "Blaze Bolt" was known to be one of the finest warriors of Gaelice. Even at a young age, his name was renown throughout the world. He became legend on his greatest and final act of bravery: vanquishing Shadolus, goddess of Chaos, Queen of Calamities and commander of the hellish armies of hell, the Sirken Cross. Since his passing, many tried to become the next "Blaze Bolt."
The Yamarey brothers, Sahn, Tairo and Ryo aim not only to reach the same status as the fallen hero, but to surpass him and become living legends of their own. But their aspirations take an unexpected turn when they stumbled on a mysterious artifact; a flame-shaped medallion called "Heart." Discovering that the medallion is coveted by the newly reformed Sirken Cross, now led by the engimatic "General", the brotherly try embarks on a journey to find the remaining Hearts to put a stop at the ambitions of the infernal forces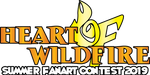 Is hosting a fanart contest of my original characters from my manga project HEART OF WILDFIRE and the wonderful season of SUMMER! A 6000

place and more!
- HEART OF WILDFIRE: Synopsis and Character Profiles
Don't compare yourself with other artists that might be better than you.
Go for it, give it your best shot and have fun at it!


Summer Fanart Contest '19 - EXTENDED! (Read below)

EDIT: Deadline Extended!
Greetings everyone,
This might be good news for some of you guys and I hope it's not a bad one for others.
Starting next week, I'll be on vacation for two weeks. During that time, though I will still be available online if I am needed, I have made some plans regarding my finances towards commissions, summer activities, projects, etc. And unfortunately, I had to pay some things that couldn't wait.
Also when I come back from my vacation, I'll probably be flat-out broke as well and it will take 2-3 weeks before I can remake some money to provide to my needed expenses. And I'd like to have the amount of money for the prizes right on time instead of making the winners wait, even if they'd be willing to be patient.
And lastly, I know a lot of people wanted to part