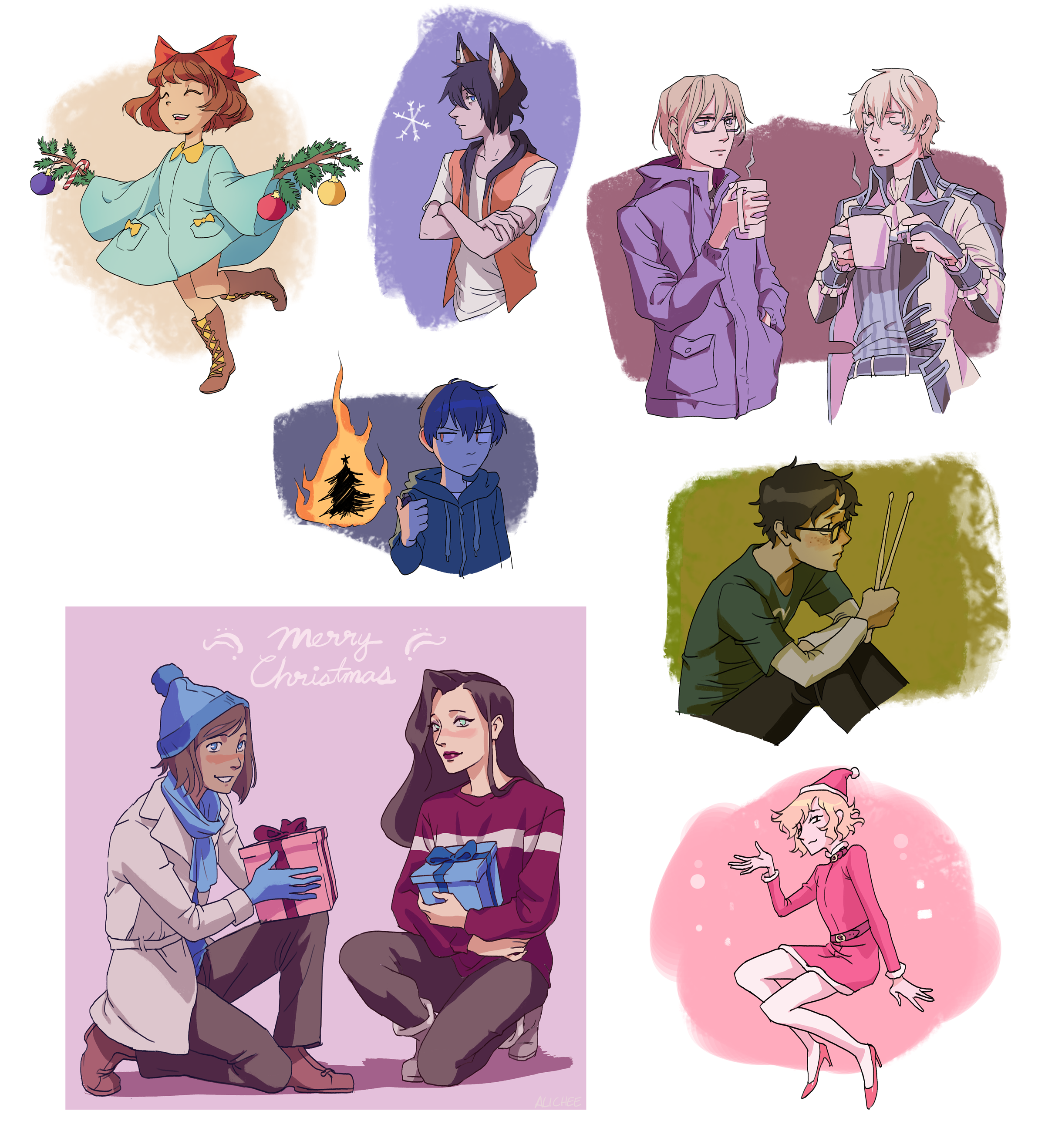 Watch
Merry Christmas friends and everyone! (Also happy birthday
Stairfell
) I decided to draw gifts for some of my friends on here to surprise them and thank them for their support of my art *_* If you become my friend you might get one for next year HAHAHA!!!
And the character list is as follows...
Jo belongs to
Stairfell
Rey belongs to
Alrathi
Riley belongs to
raineymotley
Neo belongs to
Sacchim
Kael belongs to
fluoroid
Lauren belongs to
DisturbingGreen
Korra and Asami for the mvp who suffers alongside me hahaha.
Nathaniel belongs to
Clovejar

WH
WH
WHAT DID I DO TO DESERVE THIS GIFT AHHHHH
TwT Oh, thank you so much!! I wasn't expecting something like this at allllll you're so sweet asdsjfldhah
Rey looks absolutely GORGEOUS in your style too!!

Lol this whole page is just filled with so many unique personalities, you did a wonderful job on all of them! MERRY LATE CHRISTMAS YOU GENEROUS ASS PERSON
Reply

WTF HERE I AM FRIKIN LATE AND JUST NOW SEEING THIS
THIS IS WHAT I GET FOR BEING DEAD HERE-
THANK YOU ALLLIIIII WTHHHHH ;;;;;;;;!!!
screams at tired riley like same tho-
and i love how matches up with neo haha
MERRY CHRISTMAS AND HAPPY NEW YEAR!!
"

If you become my friend you might get one for next year HAHAHA!!!" WHAT KIND OF INCENTIVE IS THAT LOL-
Reply

Haha I'm glad you like it!! Hope you had happy holidays! AND YEAH I WANT MORE FRIENDS my... drawings are all I can offer.... ........
Reply

LOLLL I LOVE this! Lighting the tree on fire. This is amazing. <3333 Thank you so much Alichee! You're so wonderful!

Reply

I'm glad you liked it!! Hope you had a good Christmas!
Reply

I'M DYING YOU MADE HER ARMS INTO TREE BRANCHESSSS

Merry Christmas OwO
Reply

ALIIIIIIIIIIIIIII IM SCREECHING THESE ARE ALL SO CUTE??? BLESS U WAAAAAAAAA ur so sweet omg im dyin holds u up into the air like in lion king

IM CRYGIN RILEY N NEO ENJOYING THAT WINTER BEVERAGE... its so funny they have such different clothes but somehow they still match

ur colors are so nice.... strokes it... i rlly like how? uniform (?) they are?? its all very balanced and unique to you T__T <3 its so cool seeing neo in that pinkish tint what a... good... palette... eats it
u mentioned something b4 abt like, preferring ur lined stuff and i wanna say i think this style is rlly nice and endearing... also its rlly versatile in how it can be both detailed and simple... CHEERS U ON IN UR FUTURE ART ENDEAVORS!!! HAPPY HOLIDAYS AND HAVE A GOOD NEW YEAR!!
Reply

;A; thank youuuu omg ;sfdjlaksdj
Dude thank you!! I'm really glad you like the colors *_* And I'm glad you like the style too! You are too kind a;sjlksf
HAPPY HOLIDAYS!!!
Reply

Pfffft looking good Nath XD but seriously gdahfsjgsa I WAS TOTALLY GONNA HAVE HIM WEAR THAT specific outfit, you beat me to it wow!

disturbinggreen is right, you are so hardworking and caring towards your friends! I feel bad I haven't drawn my friends anything sdjgsjgdj I'll DO YOU SOMETHING FOR NEW YEAR'S
Reply

Haha omg I knew it! He just looks like he'd wear that outfit.

And awww ;_; I'm glad you think that. And don't feel pressured to but thank you anyway! I mean like, when I get pressured to draw something for other people I start getting nervous about it you know?? Haha...
Reply

OH MY GOHS
OH GOSHHH ALI

There is really love coming out of my throat and I'm about to choke
Thank you so so much I mean

you drew Lauren so perfectly : his sad expression, and his forlorn look... I'm really really happy honestly

I SONT KNOW HOW TO EXPRESS MYSELF
YORE SO LOVING and always draw such nice things for your friends :,)
Thank you Ali....
Hhhhjj
Reply

Awww I'm really glad you like it!! It's no problem!! Thanks for always supporting me!
And merry Christmas I hope you're having a good one!
Reply