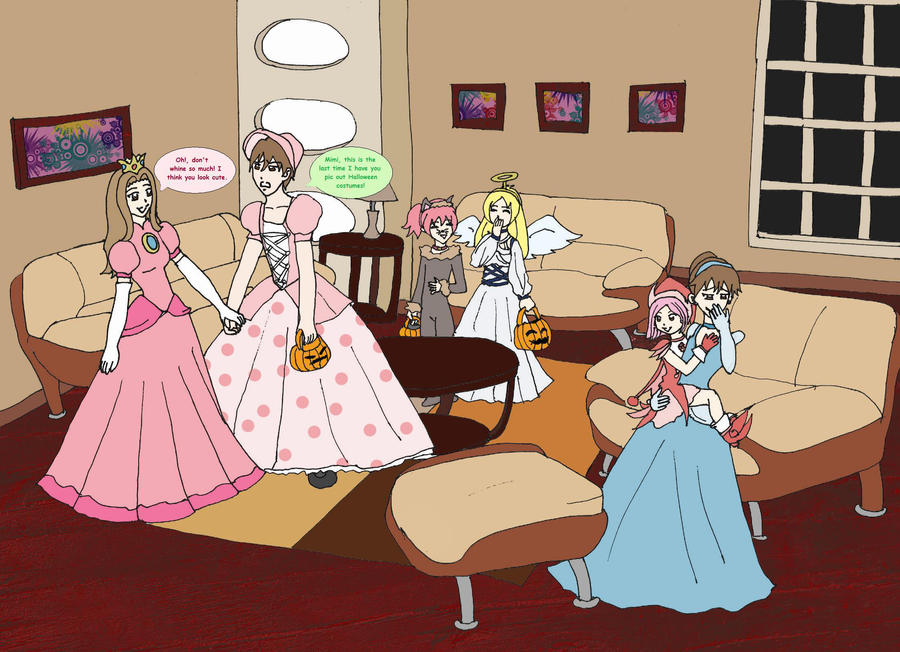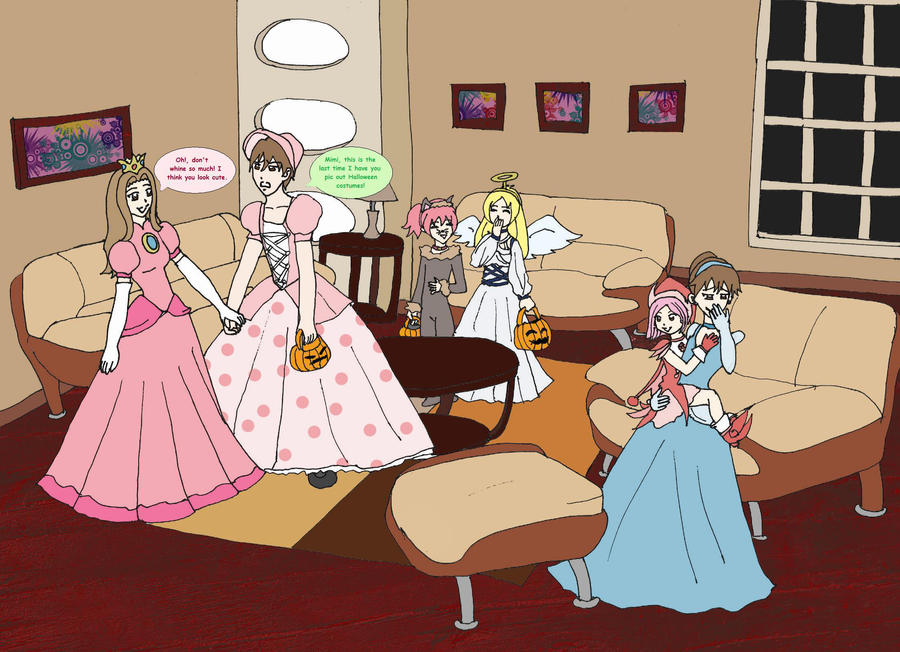 Request for

I'm sorry it took so long....
It was fun...
Shawn's cosplaying Bo peep, Lisa's cosplaying Cinderella and Mimi's cosplaying Peach from Mario Bros.
Ah! Cherry's cosplaying Poppu Harukaze from "Ojamajo Doremi", and Momoko's cosplaying Kyoko's costume in Sho's PV from "Skip Beat!".
Shawn, Cherry, Lisa, Momoko, Bethanie(c)

Mimi Tachikawa, Ojamajo Doremi (c) Toei
Cinderella, Bo peep (c) Disney
Peach (c) Nintendo
Skip beat! (c) Yoshiki Nakamura
Crappy art's mine...

Beautifully done request for Tatsunoko - well drawn and colored. The verbal reaction and facial expression from the mortified boy is awesome, as are the titters from all of the gals in the room. He's in for a very interesting, unforgettable Halloween evening indeed. It'd be interesting if they were to run into some of his "all-boy" buddies while out trick-or-treating ... surely they wouldn't - you know - give him a hard time or anything? You know how tender, sensitive, caring, and empathetic that boys that age usually are ...

Reply

now no more arguing you are going to be a girl from now on see you already look so sweet in a dress how does it finally feel to be one of the girls

you are no longer a sily boy!
Reply

Cute and funny too!!

Reply

Thanks. It's not my idea, though...
Reply

wow que rara pero divertida situacion lol
Reply

lol, yo me reí cuando él me pidió esto, me parece raro, pero divertido.
Reply

jajajaja k situacion esta eh jajaja
Reply

Me encanto Shawn en vestido XD
Reply

Great job. I really like it.
Thanks again for another great drawing. You did great.

Reply