Aliens of Star Wars features many deviations of Star Wars Aliens, you can see everything in these journal Entries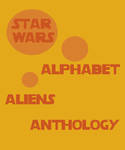 Star Wars A-Z Best Aliens arts Archive !Latest update : Dec 20 2013
Next update : probably in March 2014, when Im done checking the 23,000 deviations I've bookmarked this autumn and this winter!
. Best of
Aliens arts
If you like Twi'leks, Tusken Raiders, Bith or more than 200 other alien species that exists in Star Wars, you will love to see the best arts of them on DA!
Don't get me wrong, humans are cool too! There are a lot of them in my favourites, so check them out in there!
and in some Journal entries, links to see other awesome arts of Star Wars (for roleplaying book, trading card games etc.) with lots of aliens (and everything in between!) on them!
there is at least 8000 arts of Aliens species (at least 57 species) in my favourites
Visit each of my journal entries and my favourites to see the best of the best!


Visit my Favourites to see more than 32,000 Star Wars deviations and discover many artists!
(check out their galleries,

My Star Wars Alien Alphabet Art ProjectWoke up one day and decided to search all Star Wars artwork on DA, and fave the best of them. Well I now see that's impossible! There is so many themes/characters/etc.. I can't do it all on my own, so broke down my lists to my fave theme/characters.
One of the theme is Star Wars Aliens.
I was on Wookieepedia on the Alien Anthology page and I tought : «hey, let's do an alien search!» took that list, the one from Negas, and checked all the aliens listed on Wookieepedia (and I mean all!) and the new aliens from the Clone Wars series. And then added all my favorites characters from each species. And my search began, that was in Dec. 2012, and I've found so many arts I would never had seen otherwise!
But it was not enough! some of these alien species I have not found any deviations on DA (either pro artists or fans arts)
Then came the idea of asking 26 aliens commissions to do a Star Wars Alphabet out of these, there are other Star Wars alphabet out there :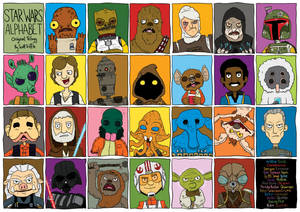 :thumb1382

All you see in «my gallery» are works I've commissioned!


but fave my commissions in the galleries of the Artists I've commissioned when possible! thank you!

Artists I've commissioned, «commissioning» is fun! dont be afraid to ask some to these artists, and there are hundreds more offering commissions too (but I must tell you, the artist's I've commissioned are the best!!!):










































Bought card/print/art from :




Visit each of these journal entries to see my favourites artists (well I cant list EVERYONE that I've faved an artwork, wish I could!!)


Yes I love these artists too!actually, they were in a very old journal of mine, but the thumbnails werent showing anymore, so I made a new journal entry!
I am watching (as of Feb 2014) 1335 artists/groups....I have about 1600 listed in my 6 journal entries, which means I have many double icons, well Im not about the sort these out! so it'll stay like that


:iconSteampoweredMikeJ::iconSteveCriado::iconStriffle::iconStrongstuff::iconStefanoMarinetti::iconSteveArgyle::iconStorm01535::iconTaclobanon::iconTagoVantor::iconTeq-Uila::iconThaldir::iconThedarkestseason::iconThe-first-Magelord::iconThe-MirrorBall-Man::iconTheSadPencil::iconThuddleston::iconTimBurtonClone::iconToadCroaker::iconToyMaker-cl::iconTracieChing::iconTrubluart::iconT-RexJOnes::iconTsabo6::iconVixen11::iconVoya::iconWaffles::iconWyv1::iconYamisnuffles::iconZhaana::iconZarnala::iconZeynowaR::icon3DXStudios::icon3ddevine::iconAbki::iconArtguyNJ::iconCcicconi::iconClayRodery::iconCS3ink::iconDaveStrong: :iconDKuang::iconDenisM79::iconFieryMonk::iconGr

Star Wars : visit these artists galleries!Many of the artist's I love! (and you probably will too!)
Make sure to visit their galleries!
:icongrantgoboom: :iconHodges-art: :iconaimo: :icontodd-the-fox::iconKaelaCroftArt: :iconblue-but-beautiful::iconnightwing1975::iconRandySiplon::iconTereseNielsen: :iconErik-Maell::iconwitchking08::iconCallista1981::iconJ-Redd::iconUdonCrew::iconleminkaine::iconidirt::iconMaster-Cyrus: :iconjessasketch::iconAngelinaBenedetti: :iconDangerous-Beauty778: :iconTanathiel::iconArt-deWhill: :iconjasonpal::iconsarahwilkinson::iconLeiaSkywalker83::iconmarkmchaley::iconcaesar120: :iconNeinel::icondefcombeta: :iconartbytravis: :iconraikoh-illust::iconEvolvana::iconChocolate-rebel::iconicarus126::iconKhinson: :iconS-von-P::iconCanadian-Rainwater: :iconSteveAndersonDesign::iconArtgerm::iconSvenjaLiv::iconTotmoartsstudio2::icongattadonna: :iconjasonedmiston::iconPurpleRAGE9205::iconOtisFrampton::iconjoewight::iconReznorix::iconJediKnight97::iconjksketch::iconSoCalTrojan::iconclockworkconfusion::iconMunkenDr

Star Wars (and more!) Artists to loveSenior Members Artists (and more!) to love as well :
There are many category of Deviants on DA, Senior Members is one of them, if you want to know more about Senior members and how they became one, check here : :faq29:
:iconPhydeau: :iconAgaave: :iconArtgerm: :iconarvalis: :iconbalaa: :iconCataclysm-X: :iconCharlie-Bowater: :iconcheeks-74: :iconcloaks: :icondaekazu: :icondiablo2003: :iconEndling: :iconGoblinQueeen: :iconHazardousArts: :iconHellobaby: :iconimaginism: :iconjasinski: :iconlen-yan: :iconlithriel: :iconluniara: :iconMacRebisz: :iconMatt-Mills: :iconpinkhavoc: :iconpinkhavok: :iconQinni: :iconRavenari: :iconsandara: :iconTeagle: :iconthekidKaos: :iconthienbao: :iconthundercake: :iconukitakumuki: :iconVianaArts:

Guess what? More artists to love!!:iconNinjaKato: :iconAokiBengal: :icontheCrow65: :iconpxtattoo: :iconTeq-Uila: :iconRaikoh-illust: :iconKonquistador: :iconEvanyell: :iconAyej: :iconjosh-eeewwa: :iconARTforNERDS: :iconDenise-Vasquez: :iconnotjustone: :iconartyewok: :iconNeinel: :iconhouseofduck: :iconjennymstead: :iconrurouni-jedi: :iconMelanarus: :iconDomNX: :iconSabra74: :iconJakeMurray: :iconLabancz: :iconAndytheLemon: :iconLakLim: :iconthestyleofnostyle: :iconJennDePaola: :icon600poundgorilla: :iconTourbillon-da: :iconWonderDookie: :iconRaven-Scribbles: :iconroboticfische: :iconJoelCCramer: :iconvic55b: :iconChaosNDisaster: :iconEricCanete: :iconLaubi: :iconE2POC: :iconFabrizio-Ricci: :iconwheels9696: :iconvoya: :iconMikimusPrime: :iconKickAwesome: :iconJok18: :iconREDBAZ: :iconCranimation: :iconafterfire: :iconcunaka: :iconFeinobi: :iconskulljammer: :iconlusiphur: :iconDrombyb: :iconCatLadyMilan: :iconVaahlkult: :iconFuntimes: :iconFoxbatMit: :iconTheamat: :iconAdamAnt543: :iconThomasBlack1: :iconKrisJustice: :ic

More artists' galleries to Visit!well, looks there is a limited number of Avatars we can put in a journal entry too. so here are artists that were in my first journal!
:iconSteampoweredMikeJ::iconSteveCriado::iconStriffle::iconStrongstuff::iconStefanoMarinetti::iconSteveArgyle::iconStorm01535::iconTaclobanon::iconTagoVantor::iconTeq-Uila::iconThaldir::iconThedarkestseason::iconThe-first-Magelord::iconThe-MirrorBall-Man::iconTheSadPencil::iconThuddleston::iconTimBurtonClone::iconToadCroaker::iconToyMaker-cl::iconTracieChing::iconTrubluart::iconT-RexJOnes::iconTsabo6::iconVixen11::iconVoya::iconWaffles::iconWyv1::iconYamisnuffles::iconZhaana::iconZarnala::iconZeynowaR::icon3DXStudios::icon3ddevine::iconAbki::iconArtguyNJ::iconCcicconi::iconClayRodery::iconCS3ink::iconDaveStrong: :iconDKuang::iconDenisM79::iconFieryMonk::iconGraphicGeek::iconIanyoshio::iconJacobDubi::iconJdurden44::iconJediPencil::iconJeffLafferty::iconJohnBeatty::iconJohnjackman::iconLabancz::iconLeah-Rosa-Art::iconPatrickSchoenmaker::iconRobD4E::iconSe

Toujours plus d'artistes! (more artists to love!)even more artist to like! art appreciators as well!
:iconJosephCrocono: :iconrawddesign: :iconWhite-Magician: :iconjeddibub: :iconfrostious: :iconPoopaPapaPalpatine: :iconComicFiction: :iconpeerro: :iconkryz-flavored: :iconkecen: :iconWyn83: :iconfiredanceryote: :iconTheLizardLover: :iconDeAeRO: :iconz95pilot: :iconlonelion4ever: :iconAbinition: :iconTeeSquar3: :iconDestro7000: :iconshinga: :iconjazcamille: :iconfreddylupus: :iconJamesJiaXu: :iconHawkTheSlayer: :iconRayfox91: :iconyuffie-leonhart: :iconcommanderlewis: :iconGoonCaptain: :iconportabelluna: :iconneo-genezis: :iconZolaPaulse: :iconsandraCmartins: :iconDan-Fortesque: :iconthisisanton: :iconcvalin: :iconKenobi-wan: :icondaveydingdong: :iconJarol-Tilap: :iconmetdude: :iconElearia: :iconDuneSand: :iconmaniacmarin: :iconBabyVegeta: :iconJeffVictor: :iconadr-ben: :iconZethKeeper: :iconncajayon: :iconAcTiViZoN: :iconburningdreams76: :i