Description
"Harry, don't go picking a row with Malfoy, don't forget, he's a prefect now, he could make life difficult for you..."
"Wow, I wonder what it'd be like to have a difficult life?"
Say what you will, but Harry is one of my all-time favorite characters.

Just some more experimentation with this style. Referenced a photo of Daniel Radcliffe:
farm7.static.flickr.com/6012/5…
Drawn in Adobe Photoshop with a Wacom tablet, couple hours.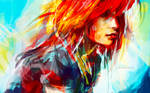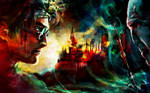 Artwork by Alice X. Zhangwww.alicexz.com
—
INSTAGRAM
|
FACEBOOK
|
TWITTER
|
SOCIETY6
Image size
800x800px 898.93 KB