Description
"Erik, we have a chance to be the better men."
"We already are!"
After seeing
X-Men: First Class
(INTENSE BROMANCE I SHIP IT) and
Inglourious Basterds
(loved it) recently... I'm completely and totally in love with Michael Fassbender and his incredibly handsome face and shark teeth. Drawn in Adobe Photoshop with a Wacom tablet. Referenced this photo:
25.media.tumblr.com/tumblr_lo4…
Done in about two hours.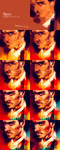 Artwork by Alice X. Zhangwww.alicexz.com
—
INSTAGRAM
|
FACEBOOK
|
TWITTER
|
SOCIETY6
Image details
Image size
800x800px 370.72 KB