Description
A younger Sherlock in his university days; I'd imagine he was cold and distant as always back then, but a bit softer and less suspicious of everyone's intentions. Totally awkward, ridiculously pale, too smart for his own good, and the biggest doe eyes you'll ever see. And lonely as hell, but pretending not to be. My poor baby! It's okay, you'll meet John later.
Please reblog instead of reposting!Commissioned work
for
Fire-Chan9490
, thank you so much for your patience. Information and status on my commissions located here:
alicexz.deviantart.com/art/Com…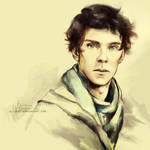 EDIT:
Minor fix on the neck area!
Image size
643x900px 201.7 KB