Description
He who fights with monsters might take care lest he thereby become a monster. And if you gaze for long into an abyss, the abyss gazes also into you.
Painting exercise. Mr. John Reese, from the amazing show
Person of Interest
!
Featured by CBS:
www.cbs.com/shows/person_of_in…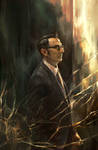 EDIT 05/08/15:
Repainted this and cleaned up many details! Hope you guys like it!
Artwork by Alice X. Zhangwww.alicexz.com
—
INSTAGRAM
|
FACEBOOK
|
TWITTER
|
SOCIETY6
Image details
Image size
700x1069px 2.14 MB