9K Favourites
258 Comments
89K Views
This is my piece for the
Let's Draw Sherlock
collaborative project! (The idea was that a bunch of people draw from the same
reference photo
but in their own art styles, to show and celebrate the diversity among
Sherlock
artists!) I've
actually drawn from this same ref before
, but it was in a much different style and a long time ago... just goes to show that there can be a variety of style even among the same person's art...
Anyway, I changed up John's expression to be more serious, but otherwise painted it as close as I could, with some obvious color interpretation and tried out the 'loose brushstroke' look again. According to some people I somehow made them look rather intense and unsettling and ghost-like, hence the title. (I was definitely going for "murder" with the red streaks...)
Realize I haven't posted any
Sherlock
-related art for a long time... this was very fun to do and I spent about two days drawing this and could probably spend more but I barely made the deadline and I should really get back to solo show work... last frivolous painting I promise. Feel free to
reblog
And be sure to check out the other contributions!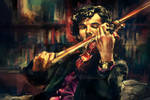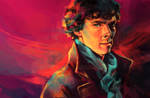 Artwork by Alice X. Zhangwww.alicexz.com
—
INSTAGRAM
|
FACEBOOK
|
TWITTER
|
SOCIETY6
IMAGE DETAILS
Image size
1133x900px 739.09 KB