Painting that you might recognize from my recent Before/After meme!
fav.me/d3dvh85
I hope people can judge this piece now without being distracted by the juxtaposition of the older work, which I really feel has a great effect... all these bright colors definitely may look jarring next to a more muted piece. Having no prior expectations changes the experience of an artwork upon a viewer, in my opinion.
But anyway, I really enjoyed painting this portrait and using a wide variety of colors to flesh out her features (her being Ginny Weasley from
Harry Potter
.) Tried to capture an intense, confident, sexy Quidditch Captain look (which is what a mid-twenties Ginny would be! She's survived a war and she's not supposed to be a timid little pixie.) Drawn in Adobe Photoshop with a Wacom tablet, no ref, several hours.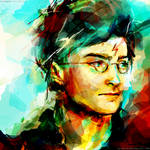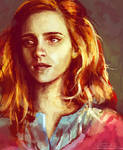 Image details
Image size
900x1273px 1.68 MB