Commissioned portrait of Lisbeth Salander from
The Girl with the Dragon Tattoo
(Millenium trilogy.) Specifically requested to match the color and style of my earlier piece "
Wasp
" of the same character, so the similarities are intentional. A lot of experimentation going on in this piece still. I referenced multiple photos of Noomi Rapace and used a bit of texture from
Sirius-sdz
!
Commissions are closed indefinitely due to the insane backlog, sorry!
Reblog here:
alicexz.tumblr.com/post/431551…
Companion piece: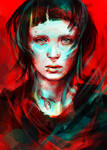 Artwork by Alice X. Zhangwww.alicexz.com
—
INSTAGRAM
|
FACEBOOK
|
TWITTER
|
SOCIETY6
Image details
Image size
700x980px 429.2 KB