Description
Painted this last night in kind of a daze... it's a study in pink... and yellow, and blue. And yep, Sherlock again...
Drawn in Adobe Photoshop with a Wacom tablet. Reference:
25.media.tumblr.com/tumblr_lhz…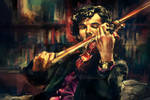 Artwork by Alice X. Zhangwww.alicexz.com
—
INSTAGRAM
|
FACEBOOK
|
TWITTER
|
SOCIETY6
Image size
1223x800px 939.95 KB

This will always be one of my favorite BC-as-Sherlock fanart works, despite not being the sort of palette I usually gravitate towards.