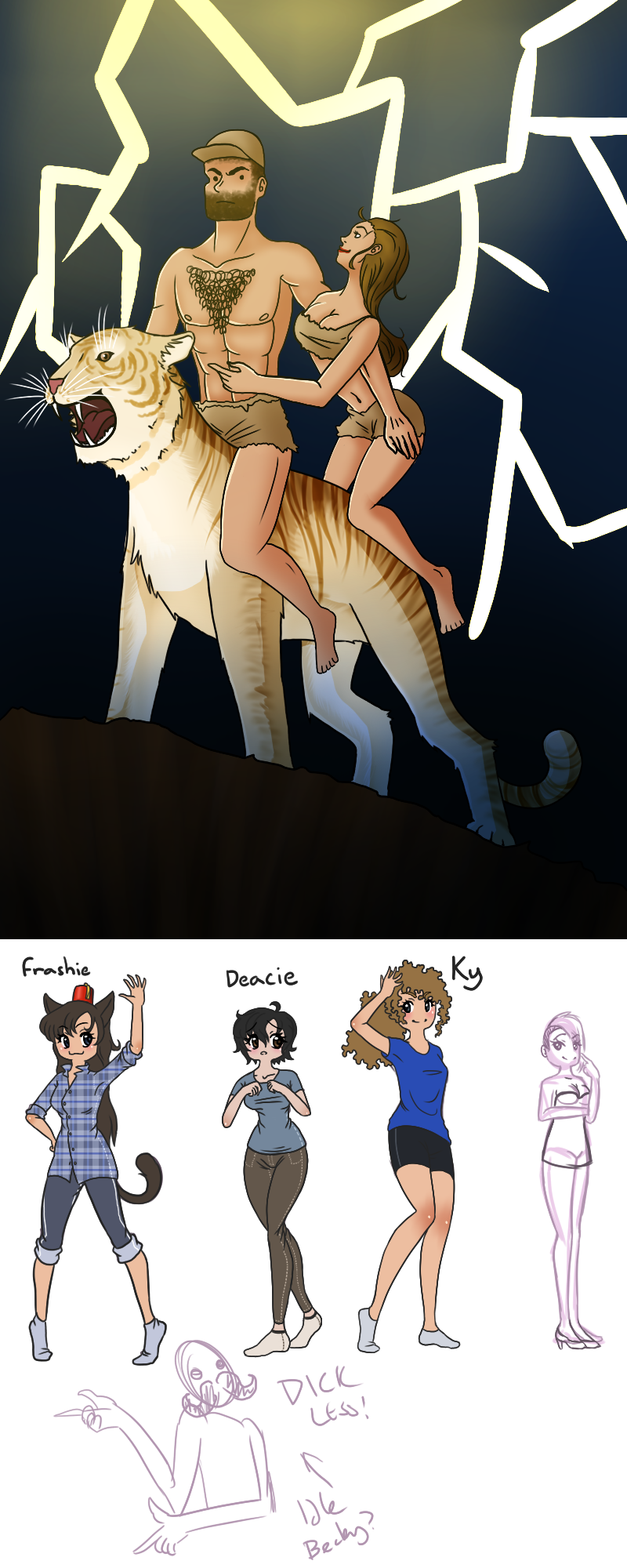 Watch
I
almost
feel proud of this dump so I decided to not throw it to sketchbook

Please note that these are really, really stupid doodles of my favorite online show, Video Games Awesome. And yes,
I am aware of the fact that this is incredibly creepy.
So we have two pictures here; above is Video Games Mansome. It has sex'd (or comic book'd?) versions of Fraser and Becky riding Hugo who has somehow become a Golden Tabby Tiger. This picture actually had two parts to it, this being one. The other part was supposed to have Ben and Kyle (also sex'd up) riding a tiger-Ruddagar. And maybe Deacon (not sex'd up) in the background riding Aquaman. It sounded fitting for some reason. I just got too lazy to finish it so I decided to never finish that part and just do Farshar and Becky.
Yes, I am fully aware that the anatomy there is god awful

Hell, Becky is missing her other arm entirely! (Forgot to draw it's lineart and thus forgot it entirely) Really the only point to that picture was to make myself laugh really, really hard. And I did.
The lower picture I call Genderbender is AWESOME!. Because, as you can see, it's VGA almost genderbendered. Please note that I had entirely forgotten the crew's opposite-gender names when drawing this a year ago, so you have what I would have imagined them being called were they the opposite gender.
I don't know why but I really wanted to make Fraser a cat girl

That idea never stops amusing me to death. Deacon I turned into a pear. Also I wanted to make him moe for some reason, and almost decided to give him glasses. I loved drawing Kyle, I had a ton of fun with the hair. Then there's the unfinished Ben. I don't know why but in my head, when I try to think of a female Ben all I can think of is a bisexual punker.

And that's kind of what I drew. And then there's the even less finished Becky. I really didn't know what a man!Becky would look like, so I did go with the usual mustache but... I never finished that one. Though I did come to the conclusion that if Becky yells "dickwad" as a woman, as a man he would yell "dickless" (because Frashie wouldn't have one. No gaming dick for Frashie).
And I think that's all that I can say about this silly dump of mine. It's weird, dumb and creepy, but I laughed a lot while making it so I guess it was worth it in the end.
If you'd like to, you can share these on Tumblr! Click the link to reblog [link]

I love you.

Thank you for this.
Reply

i usually don't like genderbent stuff, but yours makes the most since, though part of me is disappointed that "Frashie" has hair xD maybe Brokey can be the bald one in the relationship xD
seriously good job, i say you should send this to them anyway

Reply

...I think I was going to make Brokey bald... I doodled those pictures many many months ago so I don't remember well anymore but I think I was planing on doing something like that. And thank you!
Reply

That top image: You HAVE shown that to Farsh Frash and Bweck Bweck, right!? It's magnificent!

And of course Fraser is a cat girl!
Reply

Well I
could
send them a PM on YouTube with a link to this, but I feel like it could be just some unnecesary spam in their inbox.

So chances are that I won't send this to them, but who knows, I might gather up enough courage to show it to them one day. Thank you though, your comment made me happy!

Reply

Just put it to their Facebook wall... Presuming you are in Facebook.

Reply

I don't support Facebook, so I don't have an account there. Same goes for Twitter.

Reply

Oh...

Oh...
...they'll find out eventually.
Reply