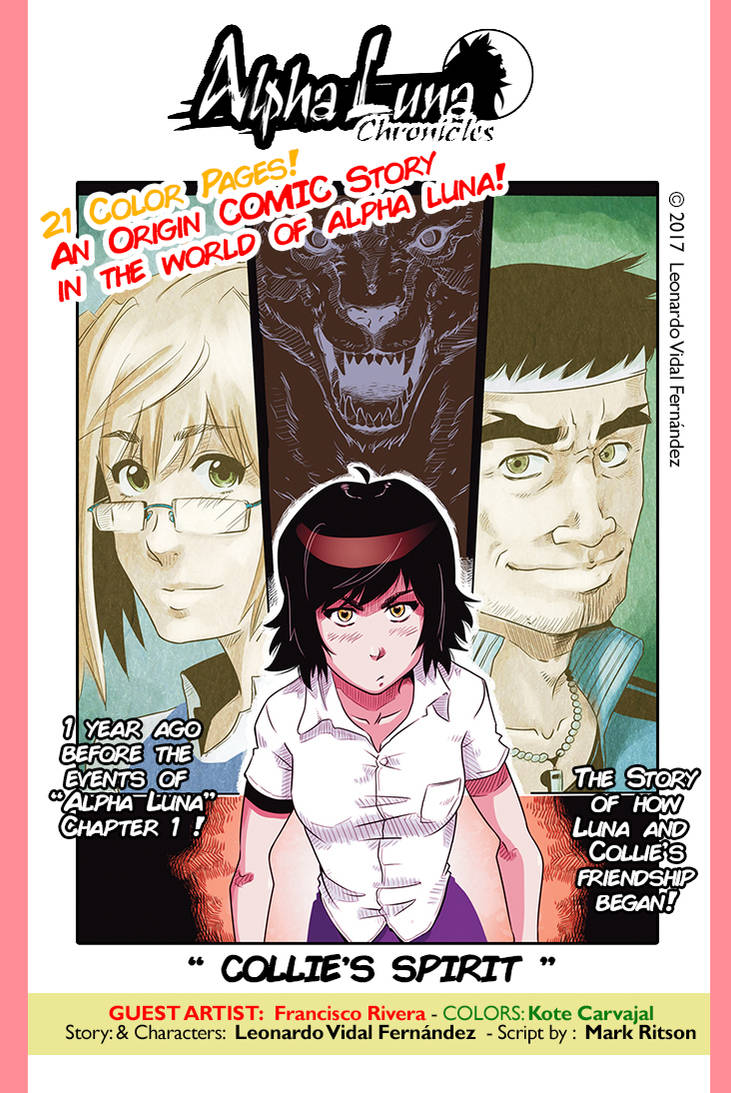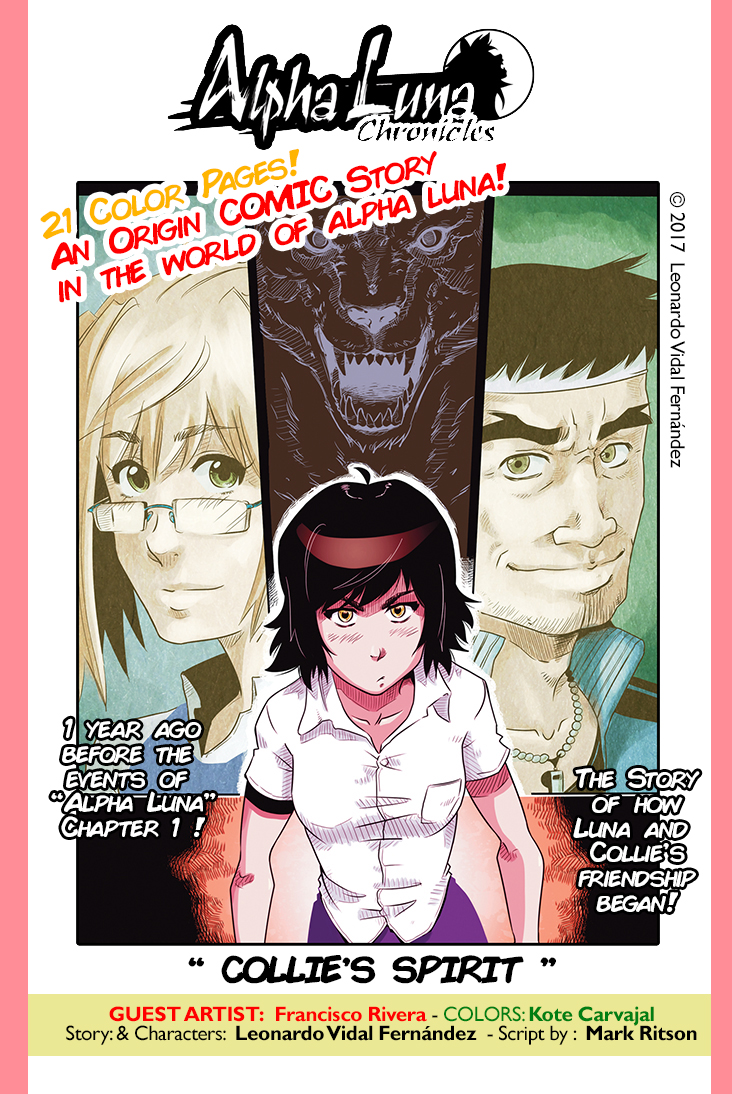 Watch
ENGLISH:
Finally after a long time, here is one of the 3 AL chronicles I've made so far. This was a collaborative work that I did back in 2012 that recently got to finish and translate into English.
Alpha Luna Chronicles "Collie's Spirit" is a 21 comic page that depicts a time where Luna and Collie were not friends yet. A more intimate story on their relationship one year before the events of Alpha Luna Chapter 1.
BUY IT HERE >>
alphaluna.net/store/
This comic was made to be a companion piece for readers and followers the Alpha Luna series, I really hope you like it!
Of course if you're already part of my Patreon Community (
www.patreon.com/alphaluna
) you may don't need to purchase it , this is made for those who prefer to buy it all at once

The guest artist in this manga is: Focco

Colors: Kote Carvajal

Story and Character: Leonardo Vidal F.
Script: Mark Ritson.
Price USD$5
21 Color Pages (PSD and jpg format)
+30 Designs and Comic pages Sketches.
Includes SPANISH and ENGLISH Versions.
Leo
------------
ESPAÑOL:
Finalmente después de mucho tiempo, aquí está una de las 3 crónicas de AL que he hecho hasta ahora. Este fue un trabajo colaborativo que hice en el 2012 que recientemente terminé de traducir al Inglés.
Alpha Luna Crónicas "El Espíritu de Collie" en 21 páginas narra una época en la que Luna y Collie aún no eran amigas. Una historia más íntima sobre su relación un año antes de los acontecimientos de Alpha Luna Capítulo 1.
Lo Puedes Comprar acá >>
alphaluna.net/store/
Este cómic fue hecho para ser un complemento para los lectores y seguidores de la serie Alpha Luna, ¡realmente espero que les guste!
Por supuesto, si tu ya eres parte de mi comunidad en patreon (
www.patreon.com/alphaluna
) quizás no necesites comprarlo, este formato existe para quienes prefieren comprarlo de inmediato en forma completa.
El artista invitado en este manga es: Focco

Colores: Kote Carvajal

Historia y personajes: Leonardo Vidal F.
Guión: Mark Ritson.
Precio USD $ 10
21 páginas a color (formato PSD y jpg)
+30 diseños y páginas de bosquejos.
Incluye versiones en ESPAÑOL e INGLÉS.
Leo