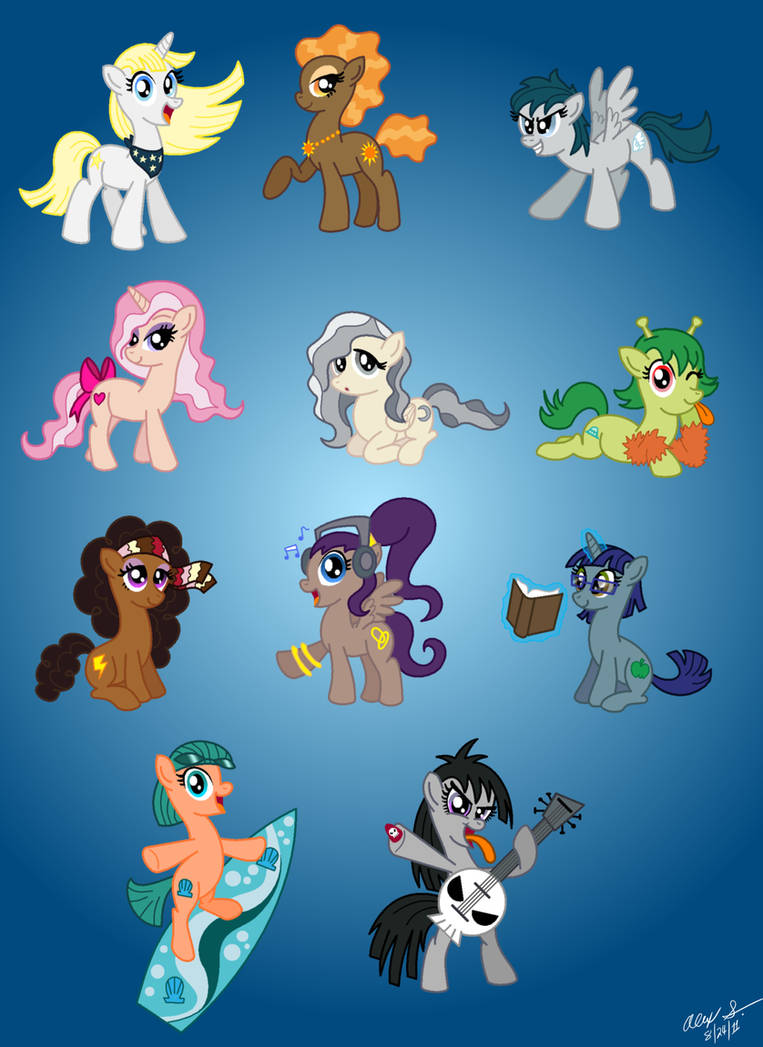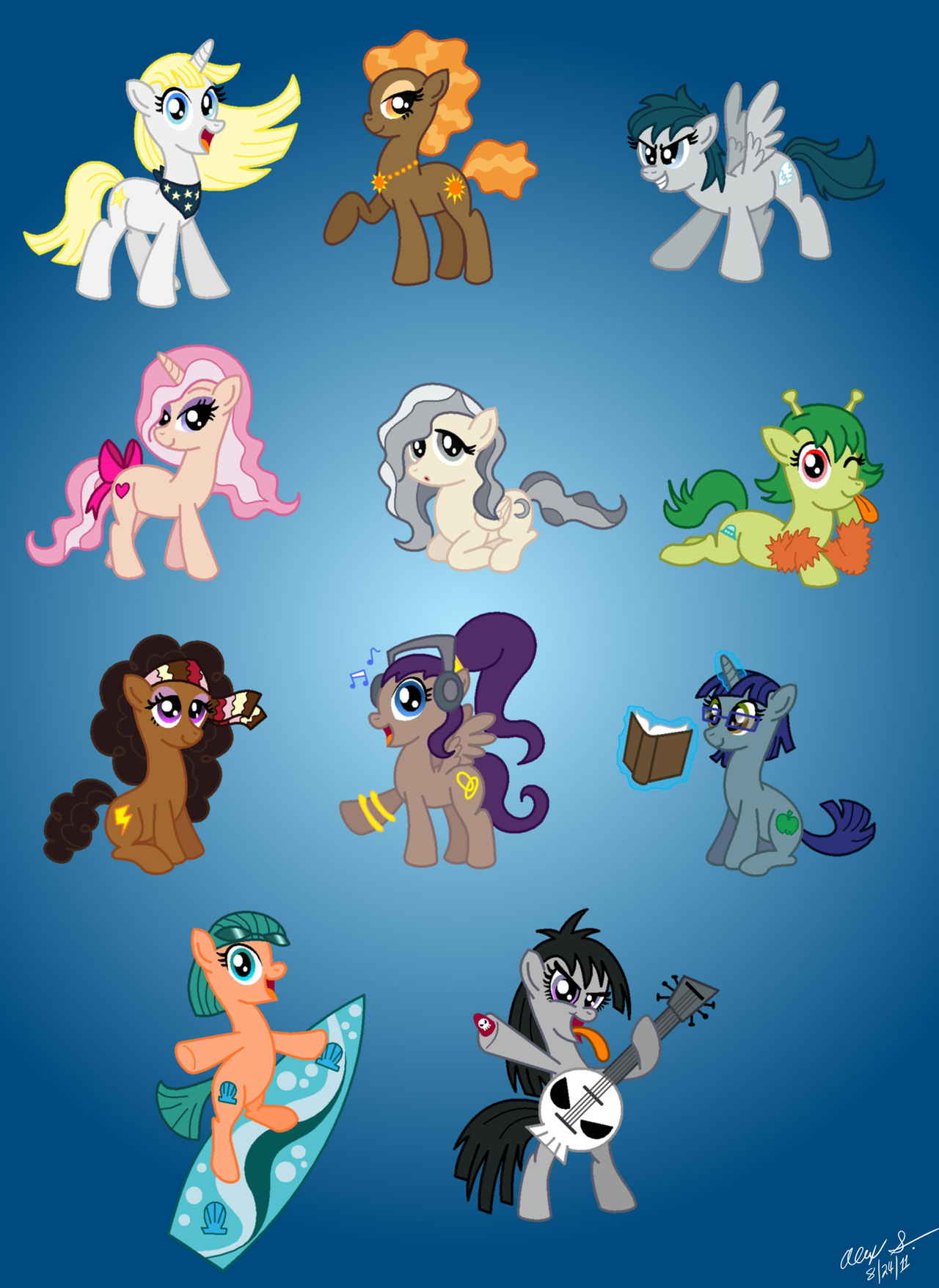 Watch
Wow, I can't believe not many people have done any crossover type stuff with the ponies and Milky Way Galaxy Girls! No one has done THIS quite yet, but luckily there have been 2 pics that popped up of some of these characters with the ponies... But anyhow,
I guess I am the first one to draw the girls in MLP style...

If I'm not, then I apologize.
Looks like I wasn't!
Yeah, this sure was fun! I got it all done in one day which is hard to believe! Had this idea last week and had to just get it down on paper! The girls look freaking awesome as ponies!!
The designs were kinda tough to figure out. Some of their hair was pretty hard to draw, and it was harder trying to figure out what their tail should look like, but they all turned into pretty decent looking ponies!

Some have clothes or accessories or jewelry, but I abstained from using their earrings and made those their cutie marks instead. Each one has their own signature earrings which kinda have the same sort of symbolic effect as a cutie mark anyhow. It was also pretty hard deciding which one should be what kind of pony. Perhaps a bit too much Earth ponies, but I wanted at least 3 of each kind.
While drawing these, I really spotted a lot of design elements that were used in My Little Pony Friendship is Magic! Even the characters personalities seem to go along with each other! (Venus and Rarity, Mercury and Rainbow Dash, Fluttershy and Jupiter, Twilight and Uranus, etc...). You can definitely tell both were made by Faust!

So yeah, I don't know a whole lot about the Milky Way Galaxy Girls, and if you don't either, be sure to follow Lauren Faust on her DA account if you haven't already:

From right to left going down:
Milky Way, Sun, Mercury
Venus, Moon, Mars
Jupiter, Saturn, Uranus
Neptune, Pluto
All in all, this was fun, but we still need more of this! Let's start a fad and make more crossovers with MLPFiM and MWGG people!!!
So yeah, I sure hope Lauren sees this! Lauren, if you do see it, you're awesome and you make the coolest characters!!

EDIT: And what do you know, she did!

MLP (c) Hasbro
FiM (c) Lauren Faust

MWGG (c) Lauren Faust
Art (c) Me
Woah! This has got to be the greatest thing idea you ever came up with! You really came up with a fascinating idea to ponify all the milky way galaxy girls! They would be really awesome if the creator, Lauren Faust who worked on the Milky Way Galazy Girls and My Little Pony: Friendship is Magic, to make these lovely ponies into the series because I mean She already came up with the idea of Princess Celestia and Princess Luna representing the day and night cycle, but if she ever did come up with these ponies in the series, I would just lose it if they ever appearaed, even if its a simple cameo appearance within a single episode!
The Artist thought this was FAIR
157 out of 176 deviants thought this was fair.
Very good, very good indeed... It's perfect enough to be submitted to My Little Pony Friendship is Magic! I think they could use an extra artist there!
Let's see:
>The Sun looks a bit like Rarity
>Mercury's pose looks a little bit like Rainbow Dash's
>The Moon looks a little bit like Fluttershy
>Uranus looks like a version of Twilight Sparkle
All in all, it is all very well drawn! I like what you did to the skin color, the eyes and the cutie marks! It looks like the symbols of their human selves... Young artists like myself, can really look up to an expert of drawing ponies!
(Hehehe... Of course, you're just the 2nd! The 1st is

)
The Artist thought this was FAIR
32 out of 36 deviants thought this was fair.