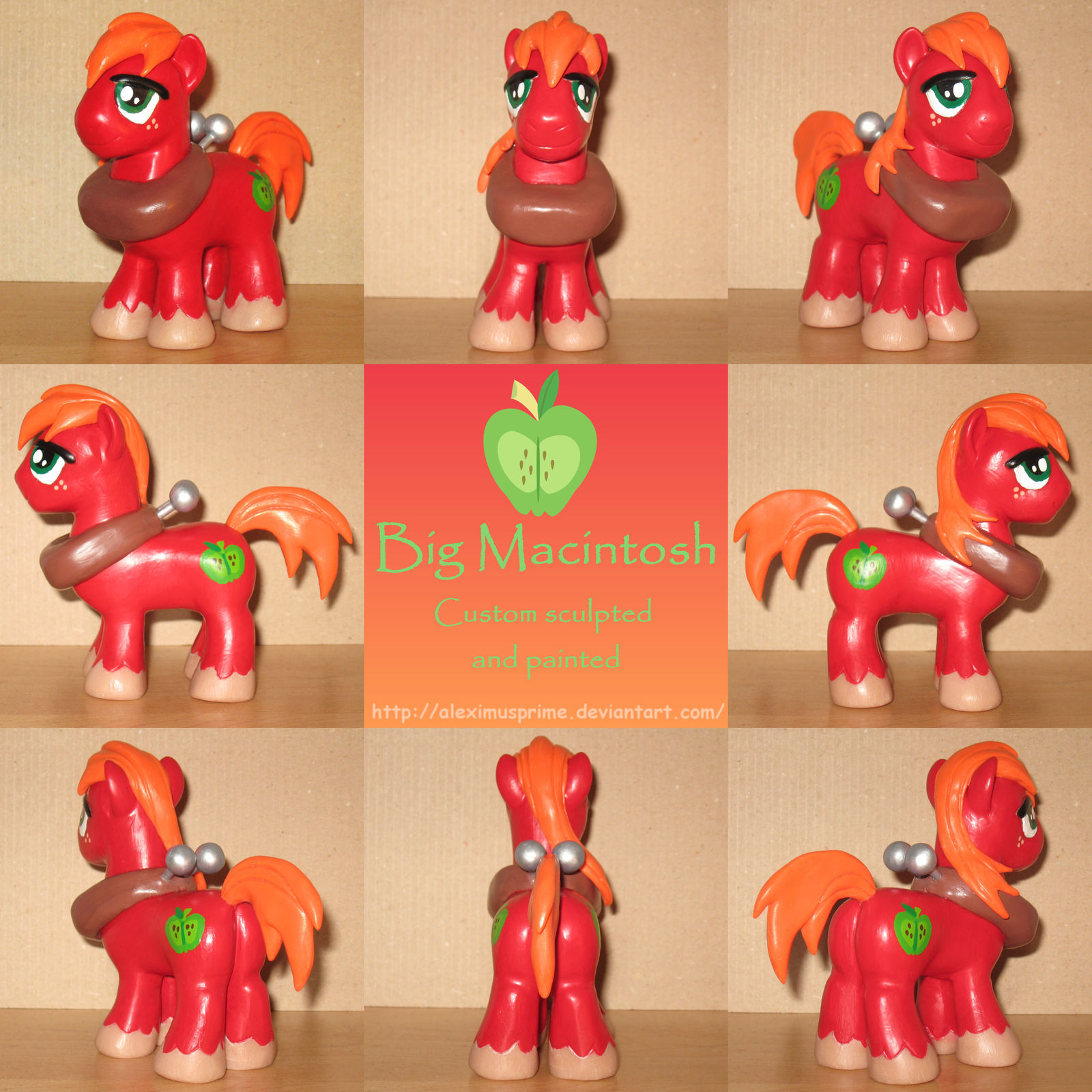 Watch
Here is my new custom Big Macintosh.
I started this custom about a year ago and put it aside and didn't try finishing it until a few weeks ago. He was made out of a regular-sized pony that was cut in half to stretch the body out, the head was elevated with some Sculpey III oven-bake clay, and he was covered almost entirely in Sculpey to have him be more properly shaped and have his legs be longer. Only his ears were not sculpted over. He was then baked to harden and I then sculpted out the mane and tail and baked them (while on him so that the mane would fit right when placed on his head. I then baked the 2 shiny things on the yoke so that they would be hard enough to put in the soft clay yoke before I baked it. The lines connecting the silver balls are thin plastic that came from some launching missiles from some of my Transformers. I also used the same technique to put a 'peg' in his tail and drilled a whole in his butt with my dremel to fit it in. He was then painted appropriately with Testors and Apple Barrel acrylics. The hooves were left unpainted since the clay was already the right color. Lastly was using Mod Podge and a bit of a mix of water to seal him.
Turned out excellent and a lot more accurate looking than my old Big Mac custom. He's pretty tall too, almost too tall when compared next to a mare toy though it doesn't bother me too much. They dont' call him Big Mac for nothing anyway. :3
I'm not sure if I want to sell this guy along with all the other ponies I'm selling at the moment but he may be at Trotcon if I get accepted into the vendor. If he doesn't sell there, I'll either keep him or sell him to anyone wishing to buy him from me. He'll be pretty expensive though, probably around $60-$70ish cuz he's practically an original sculpt.
Well that's all for now. Hope you guys like him and Derpy is next!
MLP © Hasbro
FiM © Lauren Faust