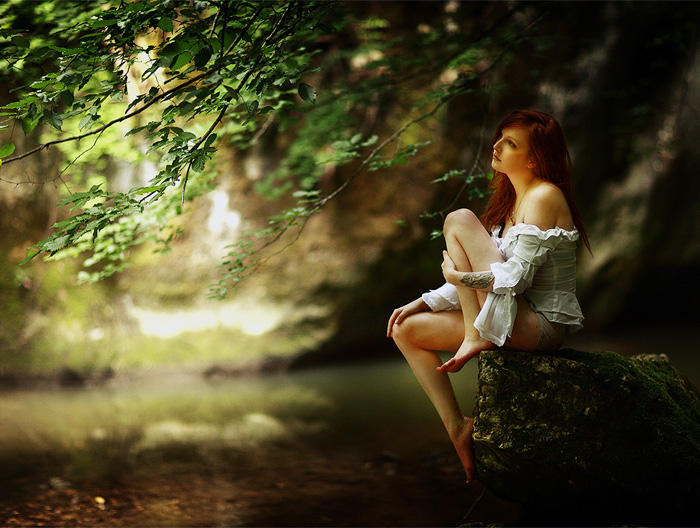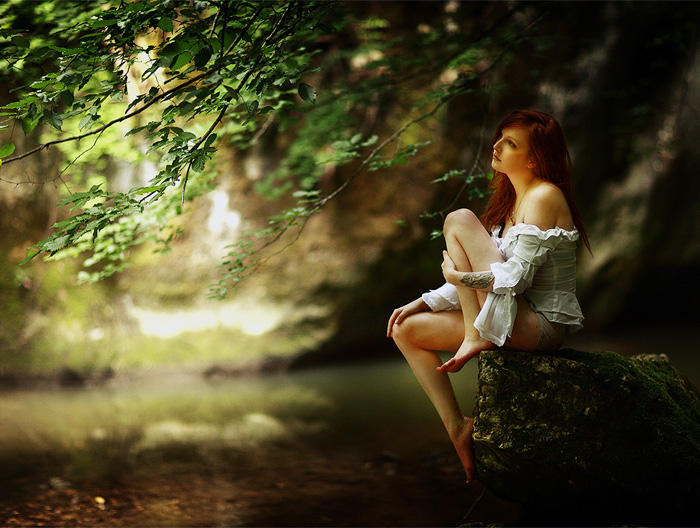 Watch
Fleeting beauty .. ..
Model : Florence Lacheré
Thank you very very much for Daily Deviation !

© Alexandre Deschaumes
Facebook page
|
Website
Daily Deviation
Given 2011-09-10
I like this image. Now let's see what does it for me.

The model is wonderfully isolated by a great choice of depth of field. The rock upon which she sits is unobtrusive and the softening effect of the moss fading to darkness bottom right elevates her position to be almost floating.
Through the wise choice of angle we also have some of the overhanging foliage at top right being in focus. There is no distracting foliage above and to the right of the model.

This has the overall effect of drawing the viewer's eye through the picture, left to right, top to bottom - much as many of us read a book or magazine, so it's a natural, familiar path for our senses to follow and comprehend.

The diffuse background and reflections in the water do give this a very contemplative feel. One senses she is at peace in this environment.
The Artist thought this was FAIR
13 out of 13 deviants thought this was fair.
This is a really neat photo. I haven't seen a photo pull off this blurry softness effect in a long while. The tones are deep and the colors are natural and appealing. I love the outfit the model is wearing. It's delicate, intimate, and shows off lot's of bare skin. I think that the bearing of skin, especially in this setting, shows a "oneness" with the environment and with nature - something that I, in particular, find admirable and attractive. These are all the wonderful things I find in this photo.

However, there are a few things I should explain that I think would make this photo even better, more impactful.
While I'm an advocate of using natural light, the use of studio lights for the model would have been a smart idea. Since the light is coming through the leaves, you can't control how bright it is (depending on how many leaves it shines through). The light on the model's face is less bright than on her legs, so - on first glance - I automatically look at her legs instead of into her eyes. This problem could be solved by using a studio light camera left aiming straight onto the model. I would have also set up some rim/backlighting behind her to create an outline of light on her back.

Another thing about light is that the viewer's eye automatically seems to look at the brightest highlight first (this is why I thought the model's face should be illuminated more than her legs/shoulder). When I view this photo, my eye always heads straight for the rock face on the left instead of for the model. I know that bright daytime sun is hard to control, and it does make certain things blown out like that. Toning down the brightness on the rock in Photoshop or Lightroom isn't difficult, and it's something that would help keep the central focus on the model.

I think everything about the model's pose is absolutely spot on, except for one thing. She looks calm and at-peace, her posture is upright yet relaxed, but the "toe half" of her left foot is flexed/raised upward instead of hanging limply downward. She may have been doing that because of edge of the rock her heel is resting on - it looks jagged and possibly sharp. I know it's such a minute thing, but details like this matter and are important.

I'm always impressed with this photographer's work. Keep uploading!
The Artist thought this was FAIR
9 out of 9 deviants thought this was fair.