Venus is a two faced axolotl. Yes, she's a based from Venus the cat. It's a little different with skins and color eyes. Venus the axolotl is friends with Yolanda and other friends. What's cool that is Venus' mom is white and her dad is brown.
another redesign cuz the beak is weird on her
redesign made by
Golden-Dreem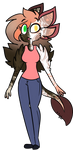 Please do not draw them naked

Notice: Please do NOT copy, re-upload, edit, alter or reproduce my work in any way without my clear, written permission!!!
Only I can use this!!!
AGREE with the notice!

Commission Info

Join the group!