So I herd u liek progress? - Winners
50 Favourites
73 Comments
4K Views
I'm proud to announce the winners of our official Fan Art Contest:
So I herd u liek progress?
. The idea behind it was to let fan artists show how much progress they've made through time by choosing one of their older fan art pieces and re-vamping it.
Without further ado, let's see who the winners are!
Literature Category
Third place:
Roman HolidayRoman Holiday
written June 4, 2011
They hire someone else for the nighttime security officer position at the Saffron City Pokemon Stadium. Some malfunctioning soul in HR sends Samus Aran three emails to inform her of the company's sincere regrets.
She deletes the messages without reading past the first line and sits down in front of the evening news with a box of honey-glazed Star Bits cereal. She gets through the news, the talk shows, the commercials, and even half a soap opera before she hits the bottom of the box and finds the plastic Luma toy.
It embarrasses her that this latest rejection has hit her so hard—deleting emails with shaking hands, watching TV until her eyes are sticky with exhaustion. She puts the empty cereal box and the Luma toy into the trash and goes to bed. She dreams of killing Metroids—though no matter how many she kills, it's never quite enough.
--
The next morning, the Chain Chomp pups are thumping around in the apartment upstairs, bark
Roman Holiday by Opus-T
Wins a 3 month Premium Membership + dA Icon Keychain + Mystery Sticker Pack
Second place:
Freaks 'Reloaded'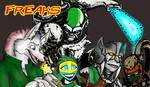 Little is known about the genesis of planet Beest and its inhabitants. It is a dramatic world, its recorded history replete with natural disasters, native tyrants, and alien invaders. Indeed, it seemed the planet never had a chance to be separate from the intergalactic community while the natives were still struggling through their dark ages. Otherworldly scientists found the various sentient native species to have genetics that were too similar to those of analogous animal species from the planet Earth to be coincidence; the predominant theory remains that the world was terraformed and populated by unknown entities for unknown reasons. The existence of several structures across the planet that resembled Earth's Stonehenge and the ziggurats seemed to support that theory even more strongly.
Over three centuries had passed since the world had first been exposed to the so-called Great War between the Autobots and Decepticons. On this world, the mad Decepticon Galvatron had found an ally i
Freaks Reloaded by JZLobo
Wins a 6 month Premium Membership + Emoticon Stressballs + dA Icon Keychain
First Place:
An Untold Story
Decades ago, during the beginnings of the Kanto civil war, two parents were proud to have their firstborn sons as pioneers in what they hoped would become an age of peace. Not one beautiful, healthy child, but identical, red-eyed, black-haired twins.
As they grew older, they were as close as brothers could be. Growing up, the older twin learned to be protective, feeling it was his duty as the "elder" brother. The younger grew to be more aloof and carefree. The older taught the younger to stay on task, mature, and work on his goals. The younger taught the older to have fun and never try to grow up too fast.
As a child, the elder became a wonderful leader. While the younger twin looked up to his brother, in secret the older brother thought just as highly of him. They were the best of friends. They worked beautifully as a team; they were unstoppable.
The time came for them to catch their first Pokémon. In those days, children did not receive Pokémon from adults. If they wante
An Untold Story by Pyroluminescence
Wins a 1 year Premium Membership + deviantWEAR T-shirt + Emoticon Buttons + dA Icon Keychain
Visual Category
Third Place:
Rapunzel by ssst
Wins a 3 month Premium Membership + dA Icon Keychain + Mystery Sticker Pack
Second Place:
Moment of Peace by Chromattix
Wins a 6 month Premium Membership + Emoticon Stressballs + dA Icon Keychain
First Place:
Dragon Dance by Noktowl
Wins a 1 year Premium Membership + deviantWEAR T-shirt + Emoticon Buttons + dA Icon Keychain
Other entries:
:thumb211670140:
The Aspie Girl - 2.0Calm and quiet… That was the scenery today for this lone, summer morning in the neighborhood of the Peach Creek Cul-De-Sac. And, in one of the dozen houses in the neighborhood, we soon could see a teenage figure in his 70's vibe room, sleeping on his circular-shape bed. Who was this young teen; sleeping in this morning on a beautiful day like today…? You will find out soon enough…
Rrriiinnnggg!!!
The teen started to stir from the sudden commotion coming from his side table beside his bed, "Geez…" he muttered in a tired voice as he turned to the location of the loud noise; it was his alarm clock. The teen grumbled a little more as he raised his hand and slammed it on top of the alarm clock, which quickly made it stopped ringing. It was soon after he turned off his alarm clock that he noticed the time that was displayed on it; 7:00am.
He blinked a little at the time on his clock before realizing something, 'Guess it's time to get the newest scam started,'
Congratulations, guys! You've made some kickass progress!
Thank you very much to all the participants and everyone who supported this contest.

And a very special thanks to
Moonbeam13
and the judges
TommyGK
,
ChewedKandi
,
annajordanart
,
omgitsacat
,
Lyricanna
,
Anoya
,
ArtisnotanAccident
,
Magic-fan
and
rydi1689
.

---
*deviantWEAR prizes are subject to availability.