Hello, everyone! It's time for another Fan Art contest. This time, we're asking participants to create Fan Art in Art Nouveau style.
What is Art Nouveau?
"Art Nouveau (French pronunciation: ​[aʁ nuvo], Anglicised to /ˈɑːrt nuːˈvoʊ/) or Jugendstil is an international philosophy[1] and style of art, architecture and applied art—especially the decorative arts—that was most popular during 1890–1910.[2] English uses the French name Art nouveau ("new art"), but the style has many different names in other countries. A reaction to academic art of the 19th century, it was inspired by natural forms and structures, not only in flowers and plants, but also in curved lines. Architects tried to harmonize with the natural environment.[3]

Art Nouveau is considered a "total" art style, embracing architecture, graphic art, interior design, and most of the decorative arts including jewellery, furniture, textiles, household silver and other utensils and lighting, as well as the fine arts. According to the philosophy of the style, art should be a way of life. For many well-off Europeans, it was possible to live in an art nouveau-inspired house with art nouveau furniture, silverware, fabrics, ceramics including tableware, jewellery, cigarette cases, etc. Artists desired to combine the fine arts and applied arts, even for utilitarian objects.[3]"
-
Wikipedia
Some examples of Art Nouveau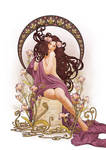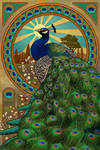 What the contest is about
Pick any character, environment or object from a fandom of your preference and create an illustration in Art Nouveau style. As simple as that!
Some examples of Fan Art Nouveau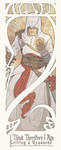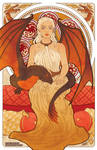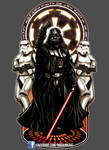 Rules
The contest starts on May 1st, 12:00 AM PST and ends on June 2nd, 11:59 PM PST.




All entries must comply with deviantART's Policies and Terms of Service.

Entries MUST be NEW and made for this contest.
Entries need to be submitted to the Fan Art Nouveau folder at CR-FanArt-Contests in order to participate.


Please note that submissions will be declined if the art wasn't uploaded to deviantART's Fan Art Gallery.




You can enter as many times as you want, but can only win once.

No fan characters or original characters. Your illustration can only display canon characters.



Prizes
1st place:
1 year Premium Membership and 3,500 points.
2nd place:
6 months Premium Membership and 2,500 points.
3rd place:
3 months Premium Membership and 1,500 points.
Judges
alexandrasalas
,
JZLobo
,
Lyricanna
,
Ry-Spirit
and
SingingFlames
Good luck!