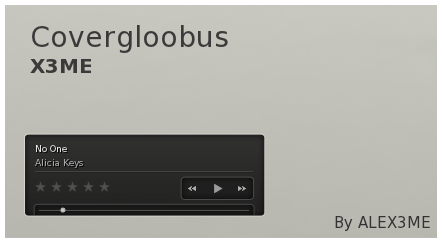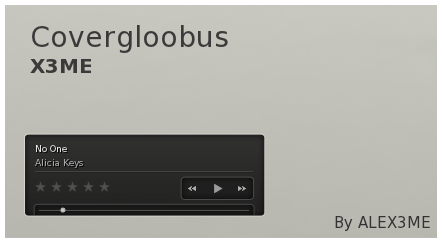 Info:
This is my first covergloobus theme! Please give some comments and suggestions

Based on Click 2 by
awhite92
:
[link]
Instructions:
1 unpack folder.
2 move to "~/.CoverGloobus/themes/" or "/usr/share/covergloobus/themes/" if the folder does not exist, create it.
3 Done! go through the properties and select the theme.
License: GPL
Extra:
Get X3ME Gnome-shell theme here:
[link]

Awesome

Reply

hey alex having request. can you code it to cd art? please really

this skin so minimal look.please..
Reply

thank you very much!

Well, unfortunately I'm not a CAD user, but I'll try to make a port.

Reply

Good job friend

Reply

i like it

i'll go ahead and add the link!
Reply

thanks

you're too kind!

Reply

Reply