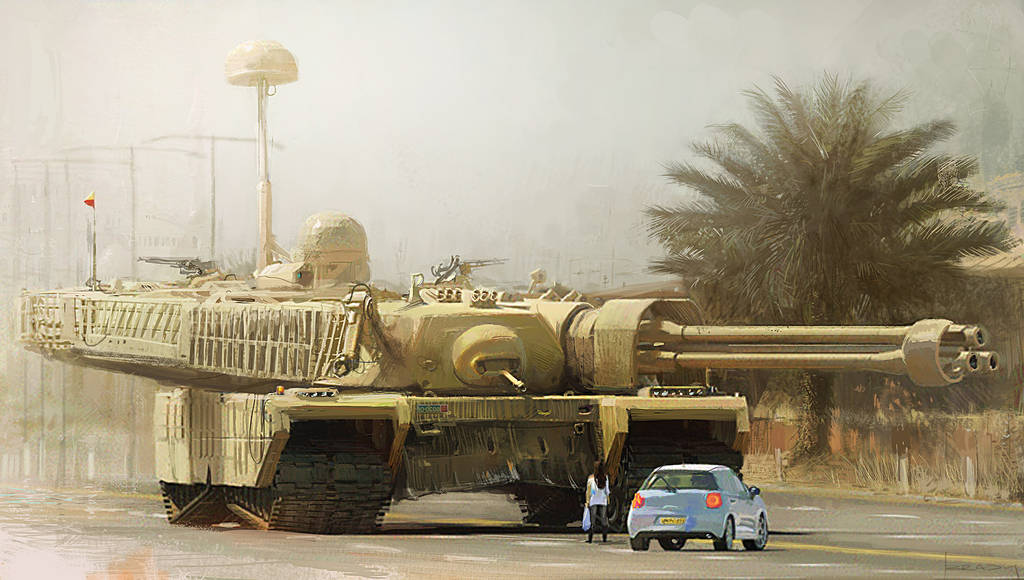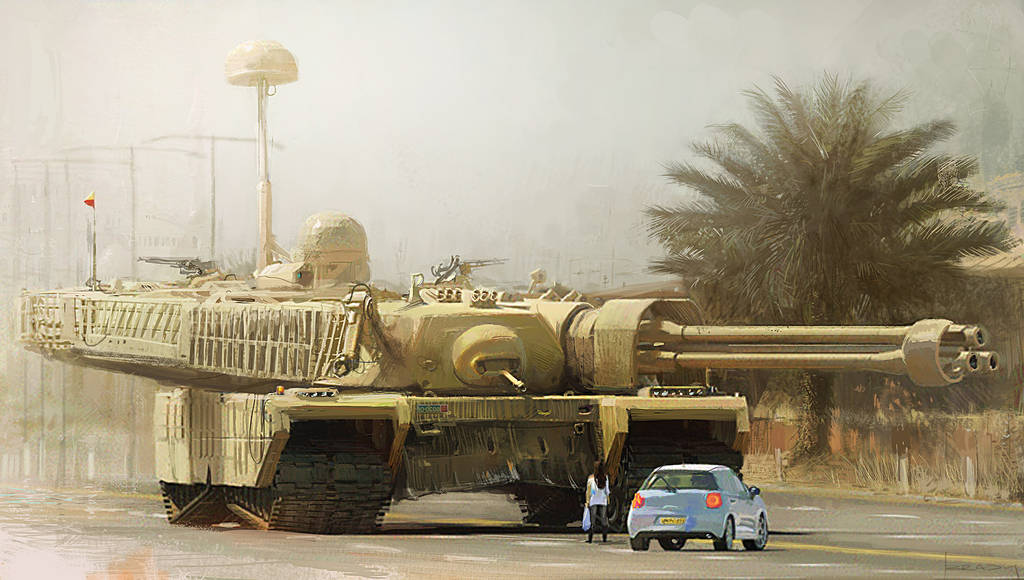 Watch

The Mainguns would at least have 200 or even 300mm, I wonder if this thing could have enough Space for Ammo to go to rapid-fire, comparable to smaller 3 barreled guns which can fire at least 700 rounds per minute.
It should at least be able to fire 60 rounds per minute, which would make it a horrifying enemy.

What is that thing on the left? Looks like a robotic arm
Reply

i thought maybe it would just fire 3 times as fast as a normal tank. not like a minigun.
but really its just a stylistic flourish to give the image extra oomph!

yeah i put an arm mainly cos aaron beck is awesome. it would get blown off in no time!!
Reply

If i find a way to make suitable tracks for that thing, I will make a model of that thing, maybe even a diorama.

I thought about it and the message, is not just a "ripoff" of the photo of Event form china, but a very powerfull statement.
Someone with shopping bags and a tiny car stepping in the way of a grotesquly oversized and sophisticated embodiment of war, which, and I dont think that was an accident, at the pictured moment in time, has an allmost comical problem of finding an adequat response which would not be overkill*.
However powerless the person, the message is strong and clear "How dare you infringe on peace? "


*If the problem with the tracks can be solved Ill replace that artillery cupola (at least it looks like that) with an AK725 in a sphere, I think those things look especially mean. I also think this could again be set in China, and the whole "Tank" would propably be something that was built in license from russia.
Some sort of weapon designed to keep regular tanks from entering an area. 500-600t od mass and I think there should be an armored landing bay for reconaissance drones.
Reply

Wow you put that into words really well!! "However powerless the person, the message is strong and clear "How dare you infringe on peace? " NAILED IT
That was exactly what I wanted to say but could only do it with a picture! Usually I dont have any interest in putting cheesy political statements into my work but this one was special.
A lot of people will complain its 'not realistic' and would never work but you got the real message perfectly.
If you ever make a diorama i would love to see it. If its any help here is some other angles of the thing. And yes make any adaptations you see fit.
www.artstation.com/artwork/Q1n…
Reply

Gorgeous! You even made an engeniering vehicle with CIWS.
And the 2nd image, is it using some sort of adaptive camouflage like that one BAE developed?

Do you have a stl. dwg. or something i could open, in blender, inventor or at least sketchup?
Reply

Amazing work; I love the scale.
Reply

Gives me a feel of a tank from the Battletech Universe. Nice take on the Tiananmen Square incident.
Reply

Reply