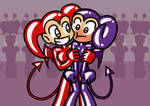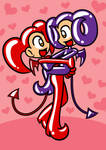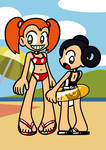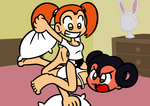 I'm thinking of revisiting their backstories, both to help some people who want to create images of them and to make it easier for me to make cool stories about them. But I do want some input from my friends in the community so please feel free to comment and suggest on it.
Idea: Mistress and Servant
Lilim
Secret identity: Lillian Pennywise
Age: 20 years old
Personality Traits: Energetic, Extrovert, Curious, Funny, Impulsive, Disinhibited, Prankster
Into: Domination, Bondage, Body Control, Tickling, Pranks, Girls, Bunny Girls, Pony Girls, School Girls, Latex Fashion, Jesters
Powers: Rubbermancy, Pocket Dimension, Teleport, Invisibility, Money Toss, ADHD

Lillian Pennywise was born in a very rich and traditional family of bankers, she has access to everything that she could ever want… in theory. In practice, she's forced to keep a good image for her family.

Out of boredom, she decided to become a villainess, adopting the guise of Lilim, the jester devil. She commits a lot of annoying little crimes, like breaking into places and pulling pranks.

One time she got access to some unknown alien technology that gave her magic-like powers and allows her to crank her pranks to 11.
Imp
Secret identity: Impi Maida
Age: 19 years old
Personality Traits: Calm, Low Self-Esteem, Introvert, Greedy, Composed, Explosive Anger, Low Stature

Into: Submission, Bondage, Mind Control, Torture Devices, Living Furniture, Gas Masks, Voyeurism, Girls, French Maids, My Little Pony, Lilim
Powers: None, Only have powers if Lilim gives her

Daughter of one of the maids living in the Pennywise mansion, she had an strange unofficial and probably illegal arrangement to work as a personal servant for Lillian ever since they both were little. Despite the arrangement, they actually were more like friends and would just spend their time playing and having fun when not in front of the adults. While a victim of Lillian's pranks herself quite often, she would usually help her mistress into making elaborated pranks with other people.

When Lillian decided to become a villainess, she decided to be her sidekick to help her stay out of trouble, since she's basically the only person in the world Lillian would ever listen to.
After Lilim gets upgraded with the alien mcguffin, Imp is often forced to wear her uniform and aid her in her evil endeavors.

The Pennyhouse
They're at the same college and cursing the same classes and living in a nearby mansion. The mansion looks a bit creepy because the only people living there is Lillian and Impi, therefore it's quite negleted. It's very spacious and has a dungeon hidden in the basement.
Used mostly between when Lillian decided to became a villainess and the alien mcguffin event, since she can create pocket dimensions to have unescapable dungeons by then.

LilimWare
After finding the alien mcguffing that gives her a bunch of weird powers, Lilim decided to make an evil corporation called LilimWare to both produce weird magical products and house a bunch of the slave girls they captured. Most of the products uses shiny synthetic alien symbiotes for long term enslavement.

***

If I make this idea cannon, there will be more images of Lillian and Impi with Impi dressed as a french maid and possible in bondage
I also plan to change two of the biggest grievances people have with them. Like, drawing them without the costume or put Lilim in bondage. That would be allowed and stuff. It's more important to me now that people feel more comfortable making art with the characters, so have fun!