So you're interested in a commission...

Great! I'd love to talk with you about it! Shoot me an email at alenalane.commissions@gmail.com. Tell me a little about what you want, how you want it to look, and the level of complexity you're looking for, and we'll work out an estimate and approximate schedule before moving forward.

What you need to know
These days I am a digital artist, so I work pretty exclusively in digital media. If you want something in the style of a certain medium (some watercolor or ink splatter effects) I can work to accommodate that, but if you're looking for a painted canvas to hang on your wall, you may need to talk to a different artist.
What I will draw:
Any characters from fandom or original fiction. My specialty is human-shaped entities, though I do some mythical creatures, and some animals. No limits to genre or pairings. I also do custom portraiture (so say, a picture of you or a friend), if provided with high-quality reference images.
What I will not draw:
Please nothing NC-17. No hate speech or racist or misogynist imagery.
What I need to know
Subject of the art. Is this an OC? An existing character? A scene? Give me all the information you can.
How many figures are in the piece?
How much of the figure is in the piece? Do you want a full-body shot, or just a portrait?
Do you want a line drawing, B&W shading, flat (simple) color, or full (complex) color?
Do you have reference images? I thrive on reference pics, so if you have any, be it for facial reference, clothing, texture, etc., by all means send them along, especially for original characters!
Do you require props, complicated original costuming/objects, or backgrounds? All of these add to the time expected and therefor factor into pricing.
Is this for web or for print? (need to know for what resolution to work in) Also, are there any specific dimensions needed?



Pricing
Pricing is determined by the projected amount of time a commission takes, based on my personal hourly rate and the above factors. I always quote prices up front.
If you have a budget limit, I'm happy to help you work out the scale of a commission so it will fit in that constraint.
Here is an example of how a portrait (single figure, head and shoulders) would be priced at different levels of detail: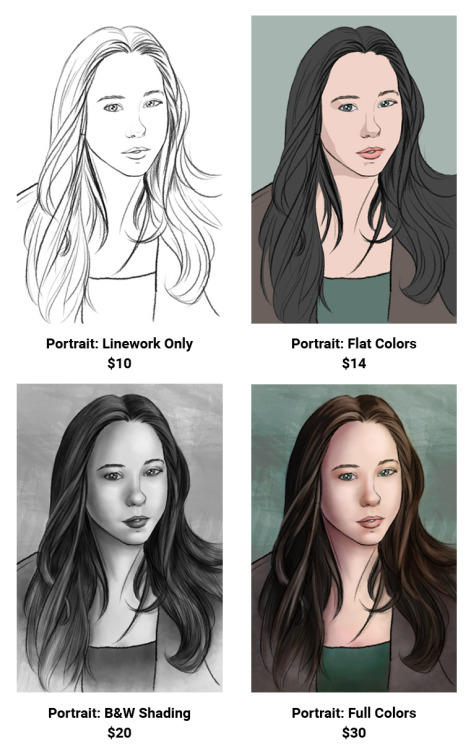 Length of Time
Illustrative commissions tend to get squeezed in between my other larger projects, so the time I have for them is dependent on how much other work I have incoming, other deadlines, and how much I already have queued up. When working out a commission, I'll aim to provide an anticipated start date. Depending on the complexity of the commission, it could take one day to a week to complete. I'm happy to keep you appraised of the process as it moves along.
If you have a specific deadline in mind when you commission a piece, please, let me know right up front! Also, there is an additional charge for rush orders that need to jump the queue.
Revisions
Each work comes with 2 free minor revisions. Major revisions and deviations from the initial brief will be billed on an hourly basis.
Payment
For smaller projects (quoted at <$50), I take payment up front once the project is ready to go (estimated start date, once I have all info and any reference materials). For projects over $50, I take half up front, and half on completion (a thumbnail will be provided of the finished work, and the full-size work delivered on full receipt of payment). If you have a large project but need to work out a payment schedule, please let me know, and we can talk about it.
I accept payment through PayPal and Google Wallet.
Prints
I don't print works myself, but if you let me know at the start of a commission if you intend to make a print and provide me with the preferred specs, I can make you a print-ready file to take to any printer, along with a release form to print the work for personal use.
Copyright
My default policy is that I retain the rights to anything I draw, and I ask that my signature not be removed and the work not redistributed without permission. If you would like to commission a piece and hold the exclusive commercial copyrights to that piece (for ads, book covers, promotional materials, etc.) please let me know, as this will factor into pricing, and I will provide a contract.
Comics
I do short ( <10 pages) comics: you can check out some of my work at
alenalanecomics.tumblr.com
Pricing is a bit different and based on a page rate. If you're interested in commissioning me as a comic artist, please email me for details.