Hello! Welcome to my profile!
Albino - Female - Highschooler - Taurus - INFP
Hello! I am Albino! I'm just someone who loves to draw and aspired to make something of myself! Critiques are very much appreciated! I desire to improve and be the best as I can! Even though I am pretty quiet and shy in real life, feel free to talk to me! I type better than I speak! I think I am pretty kind and friendly, but feel free to find out yourself! My commissions are open, and feel free to ask about collabs and art trades! I want to go into some sort of art career in the future, as well as inspire people! Anyway, welcome to my profile and I hope you have a good day/night!
Other Accounts!
Toyhouse
Art Fight
Lovely Friends!: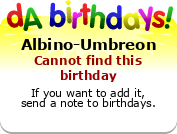 Commissions Open!