Non commissioned art from March 1979.
This was one of those forgotten works, that brought back a flood of memories...
It was inspired by the Voyager 1 probe's flyby that month. The excitement of the first close up pictures of Jupiter and it's moons, were such a contrast to the recent Mars landing (can't even remember the name...) as all that had been seen before 1979, were Earth-based telescope pictures.
This art was used in my entrance portfolio for Art Center College of Design, and then pretty much forgotten. On the other side of ACCD, it was the first painting (re)done, using all I'd learned, and, years later, became a cover for the "Gurps Space" RPG by Steve Jackson Games.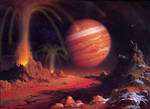 I had passed it up on slides, thinking it was the newer art...Also, the first "Fire and Ice" theme (for me).
Acrylic on illustration board.