Well, this was unexpected.
Over on my stock account, I got an DD for one of my brush sets.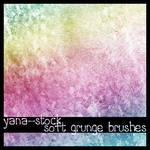 Those have been up for so long and I've all but abandoned my stock account (don't really have the time to keep up with it any longer), so I really was not expecting that.
Wow! Thanks guys

In other news, nothing much to report. Finished up my first term at ILIA, which I'm liking. I'm on break until January 11th right now. Just working a bunch, and working on my entry for the Guild Wars Wintersday art contest. As well as doing some GW art commissions. Yay.
Merry Christmas and Happy Holidays!
My Friends












Clubs












My artwork is © 2004-2009 Alana Siebert. It may not be reposted or used in any way whatsoever without first getting my express written permission. It may not be used for website layouts or signature 'tag' images at all. If you would like to use it for a poem, or to feature it outside of deviantART, you must FIRST note me and link me to where it will be and let me know exactly what it is. If I say no, you may not use it; if you do without permission and I find it, I will demand it removed.

The internet is NOT public domain!

My art is allowed to be displayed in any and all clubs on DA that I am a member of.


I was there when `
ginkgografix
suggested them and the magic happened. There was much loving over your brushes

It's too bad you don't have time to keep up your stock account, you have great stuff and it's very well loved! I'm glad you're around on your art account at least, and it's good to hear you're still doing lots of art


Haha, awesome XD

I really wish I had more time to keep up with my stock stuff! Especially making textures. Because I love textures. School and work are evil, though >.>