Hello there...no pun of the Star Wars' kind attended, my name's Alan G Brandon in real-life, but I'm safely calling myself Brandominator94. My Birthday's on the 4th February. I've got Asperger's. My fetishes can be sometimes questionable, but I've a PRIVATE Folder for that. There's this here scene of the 302nd Episode of the Japanese anime Maharomatic Automatic Maiden, Suguru-san, got his pecs grown, much to my favourite teacher Shikijo-sensei's guilty pleasure & it got me into trouble with the guys & girls on Black Rhino Ranger's Discord Server. I'd never, EVER, sexualise children!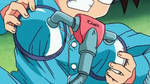 What the literal [Beep] are you guys/girls thinking?! You must be thinking of that Nugget guy's Little Girl's disguise. He's a [Beep]in Catfish, unlike me! I'm not a Catfish; just your fun-loving online role-player, manga/anime/movie/television/video game/food/knowledge lover & my Internet Safety's just a little rusty. I'm not afraid to reveal thyself; as I'd say. I'm also single & looking for love. The things I love into finding one are:
Huge boobs
Understands my boob-kinks
Caring/Always there for you
As for my real-life kinks:
The online kinks:
The things that I can't stand are:
Paedophiles, like Nugget The Balloon Girl

Scat/Fart/Urine/Cum/Futa/Lethal Popping fetishes

Injustices for the Autistics

The Extinction Rebellion environmentalist group

Anarchists/Communists.
Don't get on my bad side & we'll get along just fine!