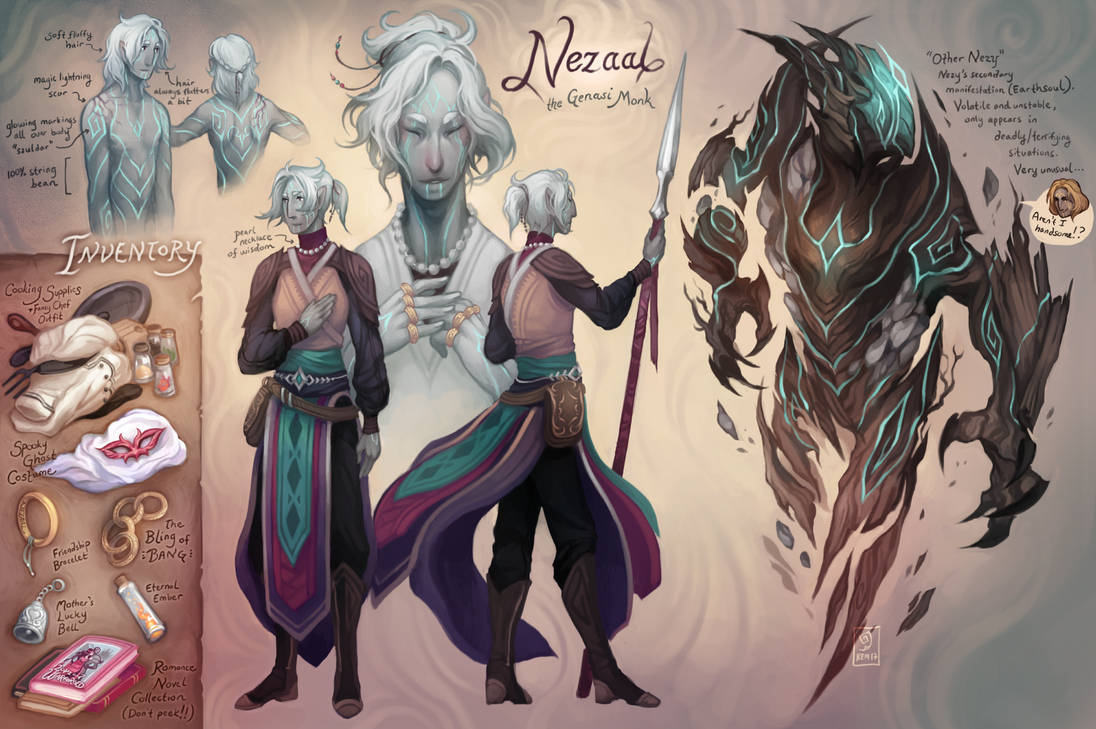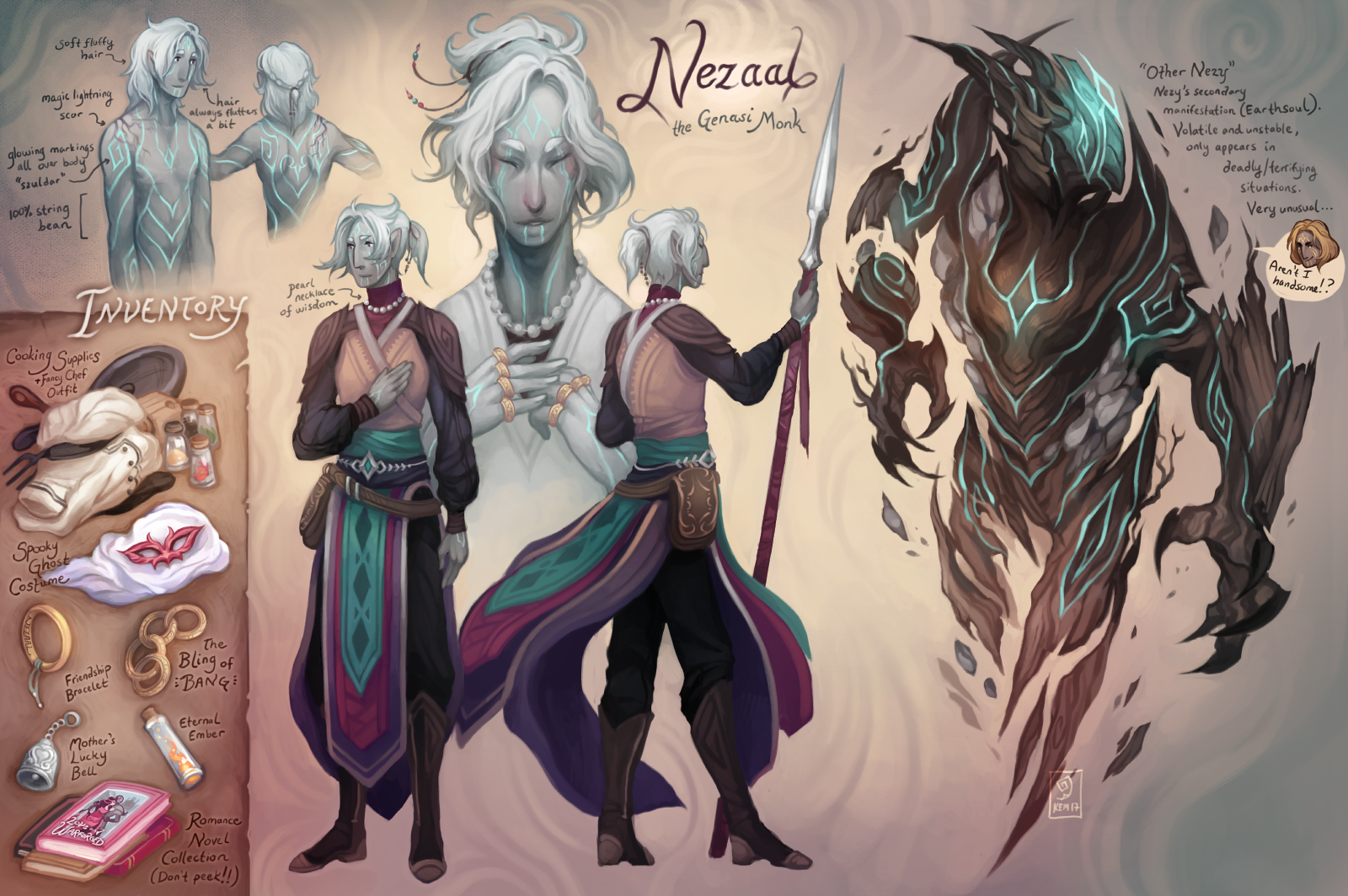 Watch
GHHH this took over 2 months of work but it's finally all done!! painting this was so much fun but heck im dyin....
This is Nezy as he appears in a SUPER FUN dnd campaign called the Fallen Alpha, which we've been playing for almost the past year now! He's a Genasi windsoul monk who's rather shy and sensitive, tending not to speak up too often, especially when it comes to making any kind of important decisions...He can seem a bit off-putting to people he doesn't know well, but once he trusts you, he can be an extremely loyal and kind friend.
This is a total redo of his old reference (hng it's SO OLD NOW) which can be seen here:
Thought I'd also include some more info about the different parts of this reference sheet!
Inventory:

Cooking Supplies (with Fancy Chef Outfit): Nezy's dream is to become a world-class chef. He's quite skilled with cooking as-is, but as of yet he's not made much of an impact on a larger scale. He also dreams of traveling the world and all its continents, tasting its cuisines, learning new recipes, and coming up with original dishes that combine the regional flavors from all around the world.

Spooky Ghost Costume (with mask): Nezy got this cool costume at a very interesting festival in the northern city of Selilona, where all sort of fun fey adventures were to be had.

Friendship Bracelet: This magic bracelet allows 1 mile of telepathic far-speech to anyone else wearing one of the matching set. These cute bracelets were all Syfier's idea. B)

The Bling of Bang (tm): Nezy's super cool golden "rings" which interlock like brass knuckles. They let him dish out some sick punches (and also knock things back with pure force. P NEAT)

Mother's Lucky Bell: This tiny silver bell has a soft, pleasant ring to it. Nezy keeps it tucked away in his bag for safekeeping and always checks to make sure it's in good shape - if it gets even slightly tarnished, he immediately works to buff it nice and shiny again. It belonged to his half-elf mother, Sirinna.

Eternal Ember: A curious vial with an ember that never goes out. Nezy's convinced that it will have a very significant purpose at some point in time. So far, no luck.

Romance Novel Collection: Nezy's top-secret stash of romance novels. They're objectively a little bit bad, but Nezy will never believe such nonsense. Someone please help him. His favorite novel (which is ABSOLUTELY off limits) is a super saucy story called "All's Fair in Love and Warforged". It's about a princess who totally falls in love with her lady warforged bodyguard, and they probably end up riding off into the sunset together. Gay
Background:
Nezy isn't too keen on sharing a Lot of his background with others, unless he absolutely trusts someone. So far, what he has shared is that he and his younger sister, Sunari, were separated from their nomadic genasi clan at a young age, and that their half-elven mother and earthsoul stepmom perished along with many others. Nezy does not know much of his other biological parent, except that she was a powerful djinni who didn't seem all that keen about sticking around. Neither he nor his sister have ever met her.
When the clan was destroyed, Nezy first learned about a secondary manifestation - a highly unstable earthsoul which he refers to as the "other Nezaal". This form is unusual because it appears only unconsciously and is unable to create a stable body - instead of the transformation that might be expected, this golem-like creature destroys some of its environment to create a powerful but single-minded form, tearing apart trees and boulders and whatever bits of earth it can obtain. It's caused some...troubles with the law in the past. Nezy is unable to control himself in this form, and he's tried many times to communicate somehow with it...it's a very slow process, but Nezy is convinced that someday he will be able to "get in touch" with that other self and bring forth a normal manifestation. He's not sure where this secondary manifestation came from, but he thinks it's likely because of his upbringings in a clan of mostly earthsoul genasi. Every so often, the "other Nezy" is able to communicate with him via vibes and impulses. Usually it's something along the lines of "HEY, QUIT BEING A WUSS".
Nezy and his sister traveled together for several years, doing whatever odd jobs they could to survive. An unfortunate event resulted in Sunari's kidnapping and disappearance, and Nezy spend a long time searching for her in vain. During this troubled time he ended up in a tumultuous relationship with another genasi, a powerful firesoul. This went on for several years before ending rather...badly, and Nezy fled to live a solitary life. A traveling monk found him during a very low point and brought him to a special monastery devoted to those in need of sanctuary and rehabilitation. There he learned how to fend for himself, which ended up coming quite in handy when Nezy set out to adventure on his own...leading him to meet a group of some very interesting friends!
Nezaal belongs to me, please do NOT use or redistribute this image. Thank you!!