So, I have very
good news
for you, dear subscribers and friends!
I have prepared for you a
list of requests
that I can do for you in the shortest time. It will cost you
only $ 27
and you can pay via
PayPal.
The style of the drawings I will do the traditional, like, say,
here: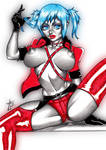 I suggest you
choose your character
from the list of requests and write to it
a small sentence
(some small details that you especially like). Your task is to
choose your character and leave a wish to him in the comments
(then send me a payment to my account
nataliakuncezva@gmail.com
Please write a message with your name and your character in payment)
So you can start:

1. Harley Queen
2. Duela Dent or Bianca Steeplechase
3. Poison Ivy
4. Catwoman
5. Blood Rayne
6. Bayonetta
7. Lara Croft
8. Nariko
9. Zoe Castillo
10. Mai Shiranui
11. Tifa Lockhart
12. Sakura Haruno
13. Tsunade
14. Anko Mitarashi
15. Juri Han
16. Trish ( Devil May Cry)
17. Madd Moxxi (Borderlands Series)
18. Sonya Blade (Mortal Kombat Series)
19. Crimson Viper (Street Fighter 4)
20. Felicia (Darkstalkers Series)
21. Aerith Gainsborough (Final Fantasy VII)
22. Princess Peach (Mario Series)
23. Cammy (Street Fighter Series)
24. Chun-Li (Street Fighter Series)
25. Chloe Frazer (Uncharted 2)
26. Juliet Starling (Lollipop Chainsaw)
27. Hinata Hyuga
28. Yoruichi Shihouin
29. Rukia Kuchiki
30. Lucy / Nyuu
31. Maka(Soul Eater)
32. Korra
33. Android 18
34. Rangiku Matsumoto
35. Yoko Ritona
36. Sailor Moon
And... This is
not the biggest list of celebrities
and
you can fill it up
, you can write me another of your favorite character, so I draw it for you.
Conditions:
not porn! light erotica, the average frame plan (at my discretion may be more), dyeing leather monotone + color materials as indicated above.
So again: you write your character in the comments, you pay for the drawing, I'm starting to draw ... oh, yes! the picture will be in high resolution specifically to your email.
As you can see, I place miniatures on my profile so that other artists cannot use it.
Good luck to all! Back up your character faster, until someone else has done it