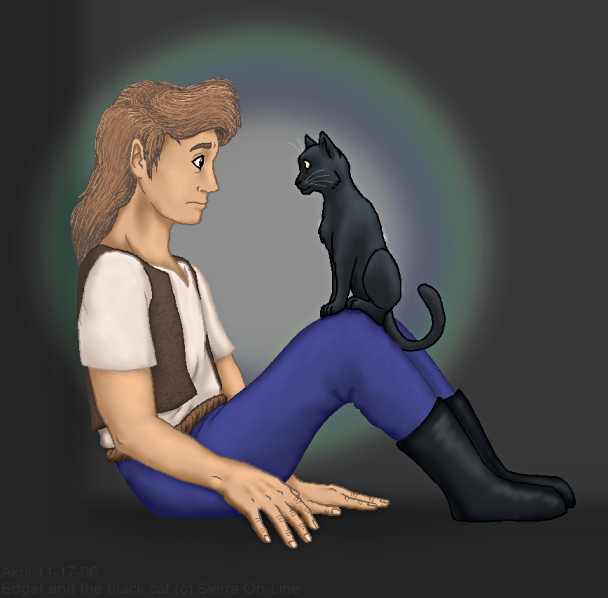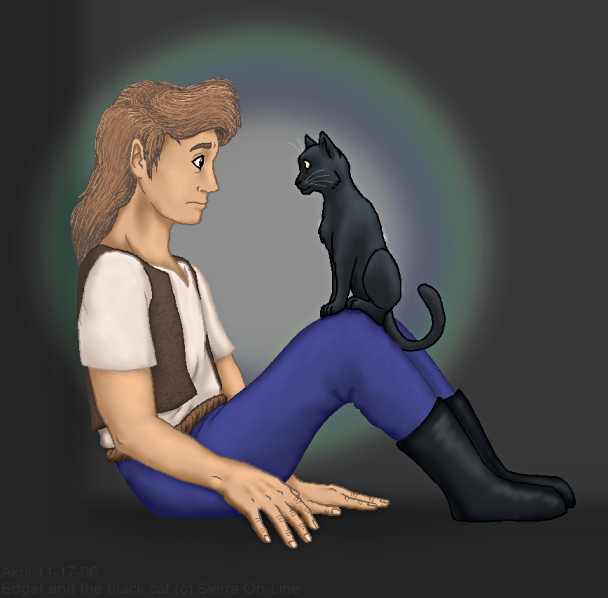 Watch
I'm starting to think that my "fan creation" obsessions come in phases, and in between there is a lull in which I create a lot of random things with few common links. I don't think I'm in between phases now.
Anyway, it's Edgar from the King's Quest series meeting his "donor" for the first time (the finished version of the second sketch in this image -
[link]
). I'd imagine that Edgar would be a little uncomfortable with shape-shifting and transfiguration after his various mishaps in the games, and finding out that this cat is now connected to him in a rather personal way is just a tad awkward.
I always found the nameless black cat in KQ7 strangely intriguing. She's probably the only non-malevolent cat in the entire series, and she seems to know everything of consequence in the game as well. She knows what Rosella is seeking when she and Rosella meet, she tells her where the Troll King is, she knows of Valanice's relationship to Rosella and advises the queen to go to Etheria in order to help save the kingdom, outlining the precise steps necessary to get there…makes me wonder whether she is more than just a simple black cat…
For some reason, the outfit I drew Edgar in looks strangely familiar. And this is probably the tenth shading experiment that hasn't turned out the way I hoped it would...