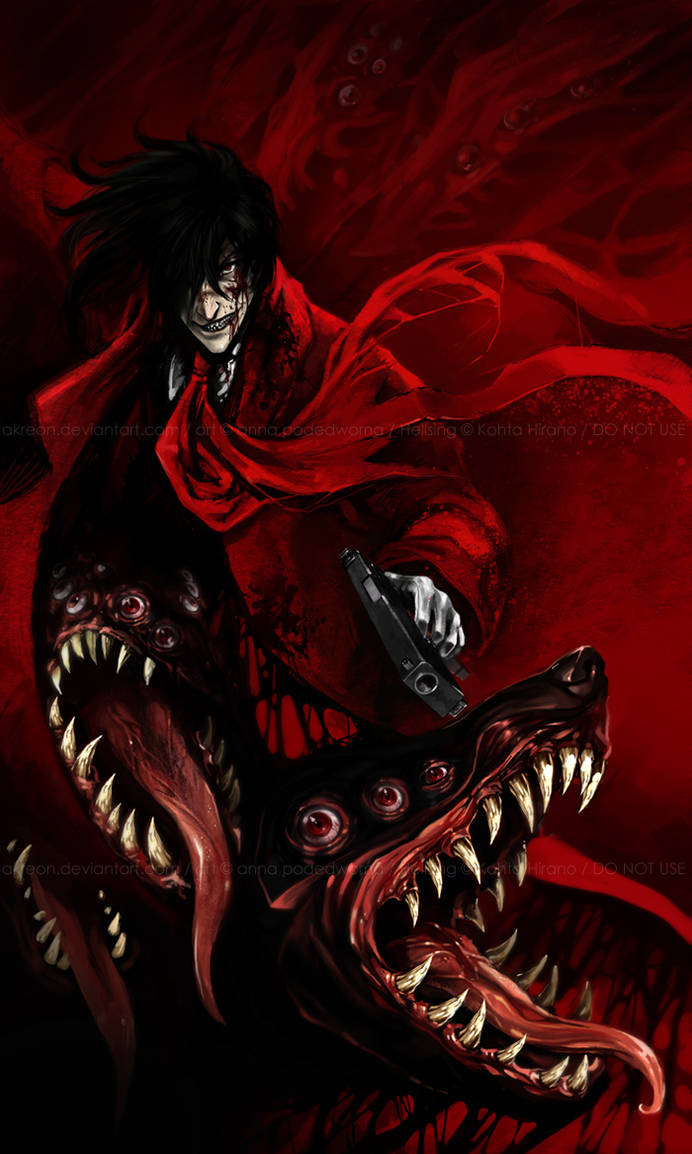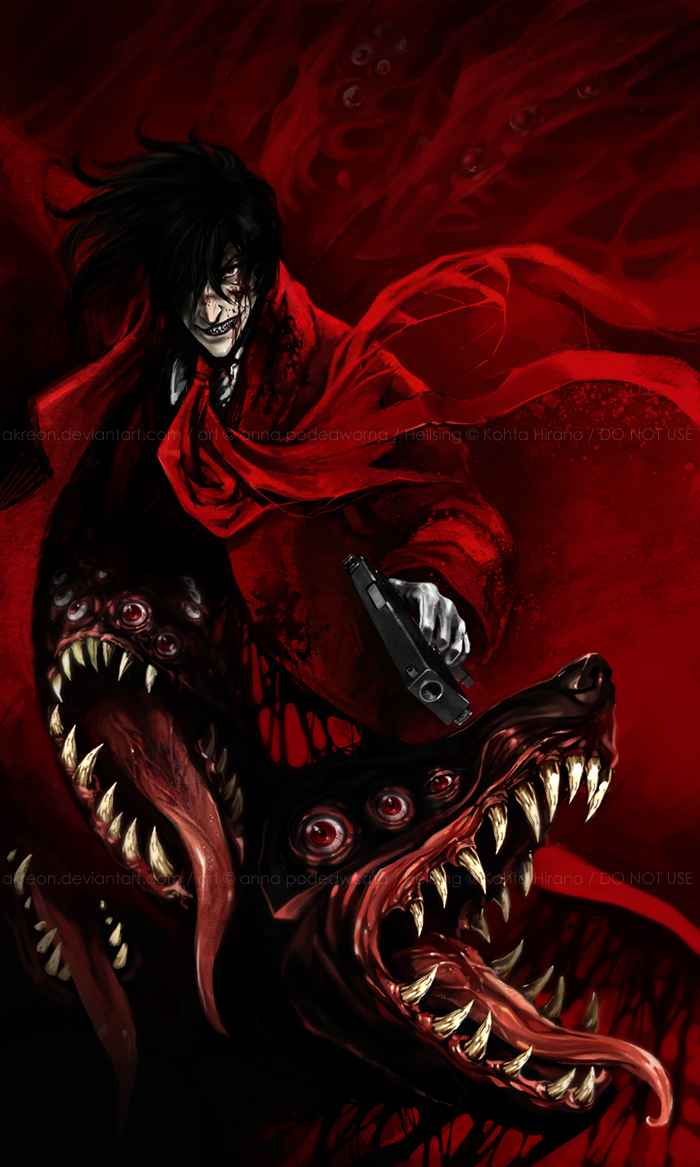 Redo of one of my older works
:3
I still want to believe that vampires can be portrayed cool and badass not pussiefied like in certain books and summer blockbusters which name I shall not speak.
prints -->
society6.com/akreon/Alucard-gR…
Daily Deviation
Given 2010-10-26
Alucard by *akreon
From the suggester:
"The beasts coming out of the vampires body are simply marvellous. That together with a dirty and organic texture of the whole painting makes it very striking... and creepy!"
(
Suggested by felis-domestica and Featured by rydi1689
)
Wow, the improvement is phenomenal! Where do I start? I'll start with the best parts. His expression is priceless; the way his mouth twists like that is truly spine-tingling. I never watched the whole anime, just a few good scenes here and there, but you seemed to have portrayed him well! Truly sadistic and blood-thirsty. Like all of your works, this has a truly original and unique luster to it. The concept is fantastic; the way his body seems to be oozing into these monsters. The dull-red colors do a great job of helping the 'dogs' stand out. I love that grainy look to his clothes; it makes the blood spatter look very dry and neat. The way the 'dogs' are drawn is very neat. They have a sort of mindless killer look to them. I love the way they are emerging. The shading and detail go right down to the teeth, which have their own chilling deadly look with the veiny tongues. And the detail on the tongues is great; that purple-faded look behind the veins is a nice effect. I can't really fine much of anything to complain about; The only things I could really pick out after looking was the difference in blending, and the highlights. It seems the blending is much more defined in some areas than in others. On the other hand, you may have done that on purpose to give it a sort of painted look. If you want an example, I would say the front gums of the largest 'dog' compared to his gums in other places which seem to have more detail and blending put into them; and the faded 'dog' coming from behind them isn't as detailed; but like I said, I'm assuming it was on purpose to give it a sort of sneaky, shadowy look and so the others stand out. For the highlights, I see you've been working on your light sources and highlights. The only thing about this I could pick out was that the 'dogs' look very shiny. Alucard's hair seemed to be directly in the light source and since it's so dark I think it would pick up brighter highlights than that, maybe even a few white-looking stray pieces at the edges, but I do see that you
did
infact add highlights, and in the right places. I just feel like they should be brighter.
All in all, good work as always!! I look forward to more from you, buddy <3
~ *
HeartofIcewind
The Artist thought this was FAIR
281 out of 306 deviants thought this was fair.