---
Hi ! I'm Akane, a french dork who spends her time drawing ponies everywhere and everytime. I have an undying love for pistachios, bunnies and The Legend of Zelda !
I'm a digital artist, and essentially a pony artist. I like drawing cute stuff and pixel stuff !
---

Little One




















Neato Pistachios
---
« I hope that the rain will never stop »
See my journal !
Friends only
See below !
Nope !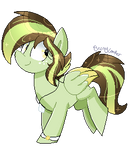 Pagedoll by Lynchristina