Attention Improbable Islanders!
I've started taking commissions. Send me a distraction in-game and we can discuss it. Here are the things you'll need to know first.
1) My base price is $20 USD (PayPal) or equivalent in-game supporter points (2000 SP). That'll get you your basic anime-style character and a flat(tish) colour background. (I prefer SP because I think Joe deserves it.)
2) Add-ons can be negotiated but might be something like an extra $10 for a full background or another character in the same image. If you have oodles of spare cash, talk to me about a non-anime, realistic, painterly portrait.
3) If you're poor, talk to me and we'll negotiate something. A flat-colour bust might be more within your price range.
4) I squish in art-time when I can. So if you can be patient, that's wonderful, but if you have a specific deadline, let me know up front.
5) I'll send you a sketch to approve. All requests for changes other than colour must be made at this stage. When I send you the 'final' version - small colour changes may be requested.
6) You'll get a high-res version for printing (if you want it), a 100x100 avatar (if you don't want to crop your own), an in-game memento from Clarinetina (gonna assume you want one), and a big hug if Clari spots you in story (whether you want it or not).
Examples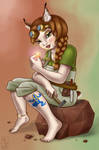 Standard commission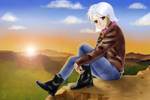 Special commission (background)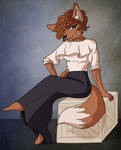 Budget commission