A Special on Headshot commissions: [link]



-------------------------------------------------------------
For payment with subscriptions see this page: [link]
For Payment with

see this page: [link]
-------------------------------------------------------------
Hello, and thanks for looking at my commissions information page! Please check below to see if I'm currently open for commissions before ordering. Below are my base prices, but I may be willing to negotiate on more complex work, or for multiple orders at once.
If there is a specific way I've drawn my lines or coloured the image that you would like me to emulate for you in my gallery, then please link me to said image in your order.
--Edit--
Traditional pieces are on hold at the moment. I don't have my scanner set up and might not for a while...
--------
OPEN FOR COMMISSIONS!
Slots:

Open

Open

Open

Open

Open
Media:
Digital
and Traditional--->Traditional is for sketches only, but you may mix traditional sketches with digital colouring.
Traditional Tools:
*Sketch or printer paper
*various types of mechanical pencils
*Mars Lumograph Steadtler Drawing Pencils
Digital Tools
:
*Wacom Bamboo Tablet
*Easy Paint Tool SAI [sketching, line work, colouring]
*Photoshop 7.0 [mainly for backgrounds or touch-up's]
Prices:
*Sketch: $5 [bust, waist-up], $7 [knee-up, full-body]
*Inked Lines/Line Art: $7 [bust, waist-up], $10 [knee-up, full body]
**
Extra Charges may apply to complex character designs
!
-->If you are ordering a digital piece you can choose a single colour for your lines, and have the option of having a transparent or single colour for the background
Additions:
*Props: $3 [a few items next to or around character(s)]
*Dot's or gradient background: $2
*simple background: $5 [mix of railing, chair, counter, wall, etc. as long as it's not too complex]
*Cross-hatching: +$3
*Monotone colouring: +$5 [may choose a colour, otherwise gray will be used]
*Coloured Lines [for inked lines]: $5
*Flats: +$5 [bust, waist-up], +$7 [knee-up, full body]
*Cell-shading: +$10 [waist-up], +$15 [Knee-up, full body]
Traditional Examples
:

Digital Examples
:
Sketch: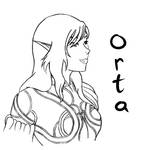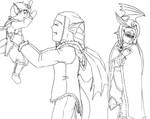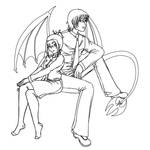 sketch - bust or half-body - crosshatched: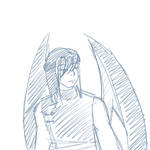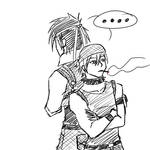 sketch - crosshatched - background: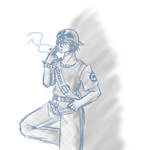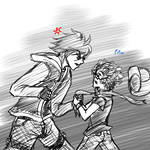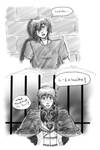 sketch - crosshatached - background - props: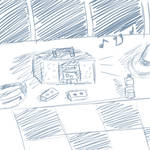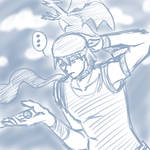 Sketch - Monotone colouring: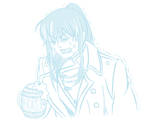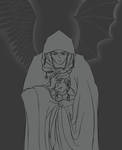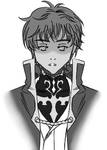 Sketch - Flats: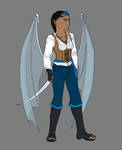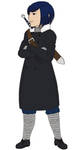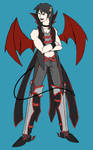 Sketch - Flats + background/props: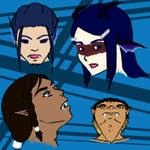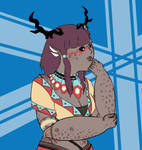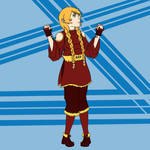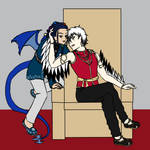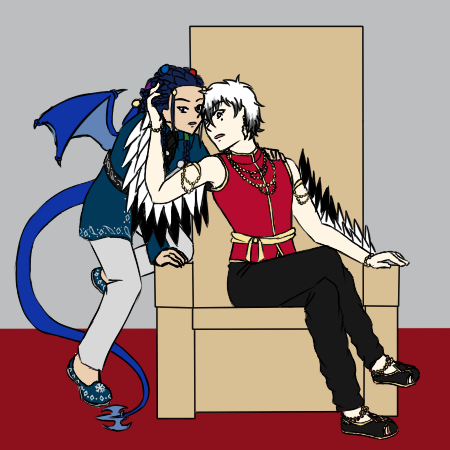 Sketch - monotone - background: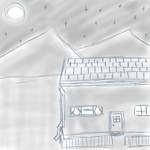 Sketch - Airbrushed colours: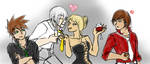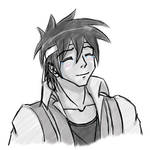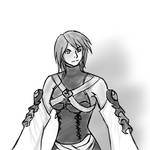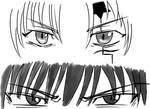 Sketch - Cell-shaded: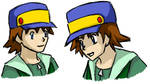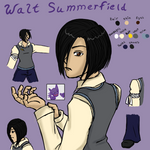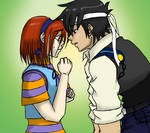 Line Art: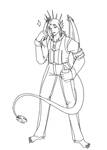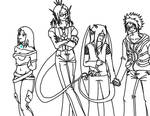 Line Art + simple background:
Inked Lines - flats: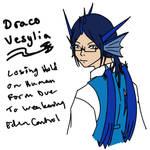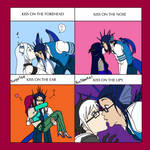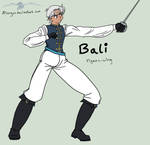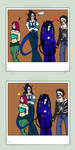 Inked Lines - flats - coloured lines: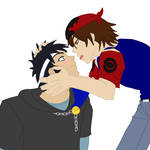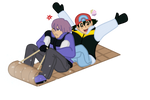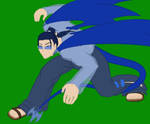 Inked Lines - flats - background/props: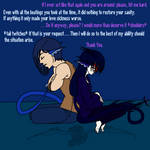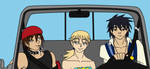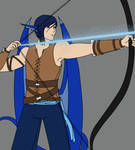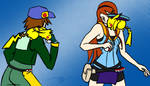 Inked Lines + Cell-shading: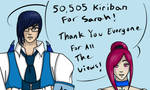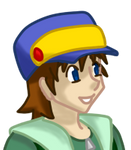 Inked Lines - Cell-shading - full body - background: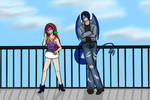 Traditional sketch with Digital Colours:
Sketch - Flats: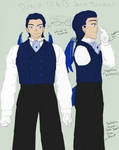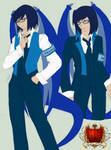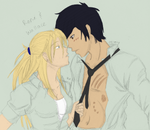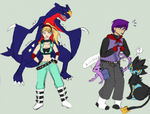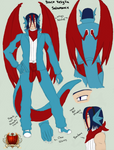 Sketch - Flats - background: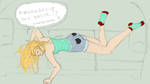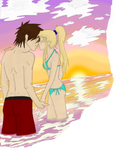 What you see in my gallery is the sort of art you should expect from me. So if you want a look at the sorts of things I often draw you can check it out. Though I am also including some samples above.

I'm still developing my skills, and I'm better at some things than others, but I will do my best to complete your commission.

Though I also reserve the right to decline a commission request.

Once you receive my image you can do whatever you wish with it except claim it as your own work or use it to gain profit, such as through commercial means.

If I'm doing a traditional image for you and you'd like the original, I'll need to charge extra for postage to send it to you. But will also need a mailing address to send it to.
WILL:

Draw fan art [canon/official characters from a series that does not belong to you].

Draw OC's, original characters in general, or fan characters.

Drawn fan characters paired with canon ("official") characters.

Draw same sex pairings or heterosexual pairings
WON'T:

Draw complete realism

Draw complete nudity

Draw explicitly sexual images

Draw detailed machinery or robots

Draw highly detailed backgrounds

Draw "furries". That would be humanoid shaped animals. I'm just not sure how to go about this.
MAYBE
, if specifically requested:

Blood... Well it depends on the degree of it you want. But if you do want it we'll need to talk this over first.

Action scenes are not a strong point of mine. We can discuss it if you would like something like this though.

Pokémon or animals are also not a strong point of mine. But if you would like me to draw any, we can discuss it.

Weaponry, again, not a strong point. If you want something like a pole or simplistic sword then sure. But for guns or weapons with an intricate design... we'll have to discuss first.

Humanoid characters with animal features. Like if they have a tail and ears, or maybe horns, we can discuss this.
Payment Policy:

I prefer to accept payment through Paypal. But if you can send me a money order in CAD [Canadian funds] then we can work with that.
I wait until I receive payment before starting your order! So paypal is usually faster than money order. Though I am not responsible for any lost payment through the mail system.
Refund Policy:
If, for some reason, I am unable to complete your commission after I've received payment, I will refund you.
I usually send a preview of the sketch for approval before moving onto crosshatching, inking, or colouring. If you want any changes to the image, when you get the sketch preview is the time to tell me. But if I have finished your commission and you have already received it, I am sorry but I can not refund you. If there is a problem with the commission itself, then we can talk things over to see if there are some edits to it I can make if it was a mistake on my end.
However, if you change your mind about something major after I've started inking or colouring, and it would be a drastic change to the image, I'm sorry but it will cost extra for me to do large edits.
Canvas size, file type:

for small digital sketches I generally work on a canvas of 500x500 or 400x400 pixels. And for saving I will generally save in .png format. Though I may go with wider dimensions if requested, but that would need to be discussed when ordering. and the maximum I usually go width wise is 900px.

for line art of a traditional sketch I usually work with a canvas of 900px wide. Height may vary depending on the image, but it is usually more than 900px for portraits. If it's a landscape orientation of the page then the height is generally less than 900px

when sketching traditionally I generally use A4 size paper. Though generally only a detailed image, or one with a background will take up most of the page. Unless you request for the image to be of A4 size, the size of the traditional sketch may be smaller than the full size of the paper.

When scanning traditional sketches, I scan the image in at 300dpi as a .jpg, then resize the image down to 900px width and save it as .png.
How Long Will It Take?
It really depends on what it is you are ordering. Both the type of commission and subject matter will affect how long it takes me to complete your order. I don't have free time 100% of the time to work on commissions, but they will be a top priority!
I will tell you after I have approved your commission request how long I estimate it may take. But for a general rule of thumb, check below.

For a sketch, it should only take me a few days to complete, but may take as long as a week. I will contact you with a preview when I have the rough sketch or thumbnail finished.

After the sketch is done please give me at least a week to work on the line art.

Adding cross-hatching may take a couple days in addition to how long the sketch and/or line art took.

If you want flat or monotone colouring added to your order after the sketch or line art was approved, that may take a few days. Though I will send you a preview to see if the colours are what you wanted. If they are not, then we can discuss what colour(s) you had in mind.

If you want cell-shading... give me at least a week after the sketch/line art is approved please. I'm still working on my skills for shading colours, so this will take me some time to complete.

So all-in-all a cell-shaded image with Inked lines can take about a month for me to complete. But line art may only take a couple weeks. And a sketch should take a few days or a week.
Payment:

After I approve your commission request I will send you my paypal address for you to send payment. Or, if you choose to send a money order, I will give an address to mail the money order to.

You are responsible for the fee's. And I require payment before I start on your order.

Please include your dA username when sending a paypal payment. That way I know who it's from!
How To Order:

If you would like a commission please send me a note with a filled application [shown below] here on DA with "Commission Request" in the subject line, or e-mail me at aisuryuu@telus.net. dA notes are preferred, however.

Please try to be as specific as possible about what you would like.

For OC's I'll require a reference image and some details about them. If it's fan art of a character or series I don't know, I may ask you to send me an image of them.

Once I approve your request I will send you payment information, and possibly request a contact email from you. Though contact through dA notes will be fine for me, if you would prefer to communicate through email please tell me.

I will not start working on the order until payment has been received.

I will send you a preview of the sketch for approval before adding the finishing touches, or moving onto creating the next stage if you ordered something more than just a sketch.
Application:
Your Name/username
:
Contact Information
:
[e-mail I can reach you at]
Type of commission
:
sketch, line work, full body, partial body, etc.
Preferred Media:
digital, traditional, mixed media?
Number of characters
:
[I will generally do no more than 3, but we can talk about this more]
Information
:
[character(s) info, props, pose, etc. Please be descriptive]
Link(s) for reference
:
[images, profiles, poses, etc.]
For digital line work or coloured images
:
transparent background? Yes/No
Payment Method
:
Paypal/Money Order [Paypal preferred]Other: Anything else about the commission that you want to specify that is not covered anywhere else in the application-------------------------------------------------------------