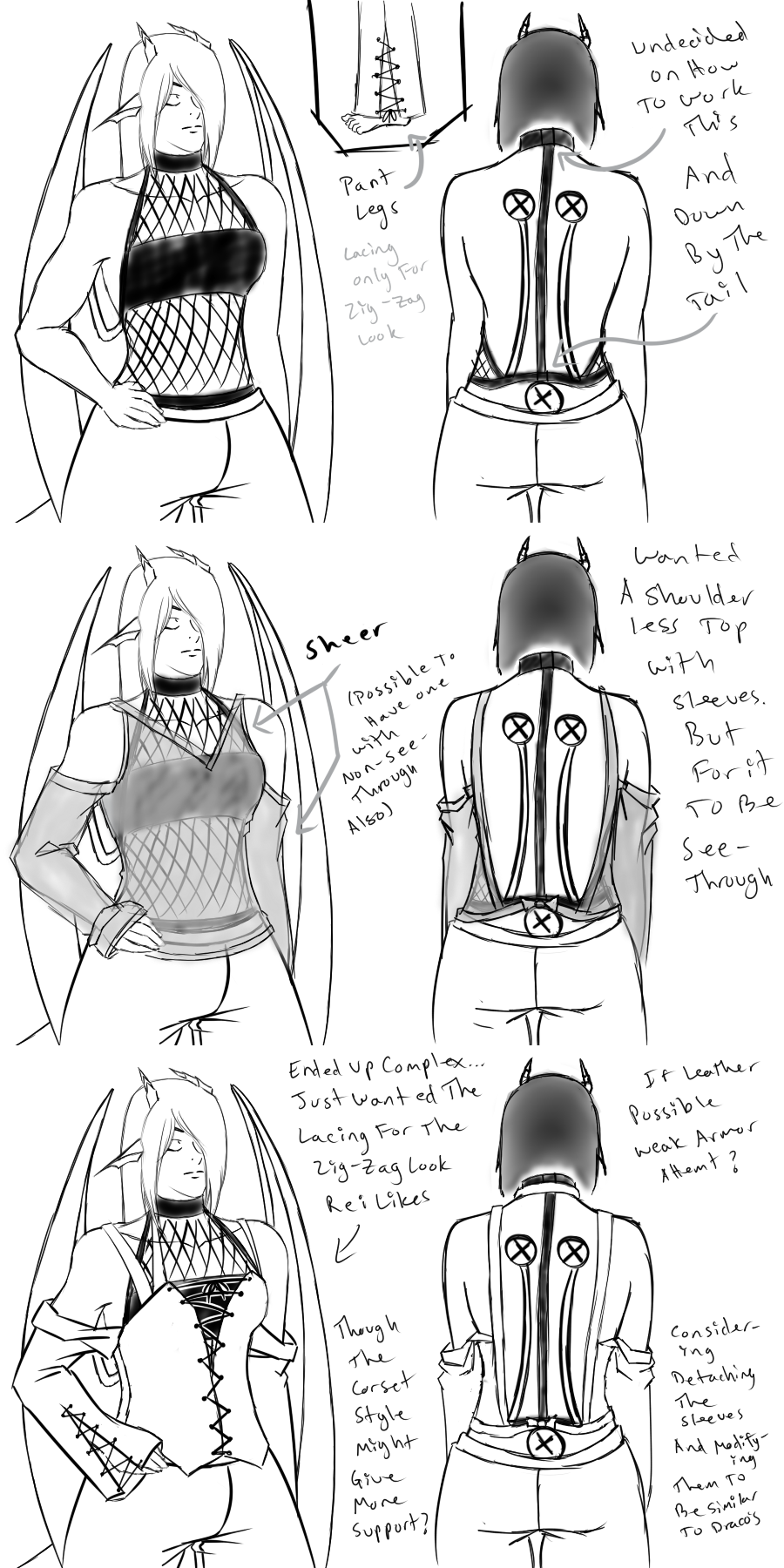 Watch



No colours b/c I'm just testing trying to design her some tops. I also left off her facial burn scars intentionally because I wanted to focus on her clothing.
Been wanting to draw her in a sheer shoulderless top with long sleeves for a while. Also told Anu I wanted to try a design for a halter fishnet top on her. Seeing how she seems to prefer to wear fishnet tops. Normally she wraps her torso but she can't do that with her wing webbing going down so far. I also put a panel of fabric across it to try make it a bit more comfortable and to help bind a little.
The lacing on the pant leg is decorative. Just tried to include it b/c Rei has a thing for zigzag, but it also makes the leg wider. She can tighten the lacing if she wants to pull the pant leg in some I suppose.
The halter fishnet is the main thing. The shoulderless sheer top was just one of the few designs for the top I wanted to try on her. (I have others but I only had time to draw one of them.) Because I wanted to give her a sheer top and to make it shoulderless somehow.
The corset sort of shirt thing was just me trying to give her a top that would allow a zigzag pattern down the middle, but it might be able to offer some support also depending what it's made of? The tie is down at the bottom near her tail. That way she can put it on without worrying about her wings getting in the way, and so she doesn't have to mess with the lacing in the front every time after she adjusts it the first time.
The lacing on the sleeves is decorative and so she can get wider sleeves near the forearm and wrist. As she tends to wear long and wide sleeves. I didn't want to make them way past her finger tips though. As that'd make it harder to use her hands I imagine.
I only decided to try having the sleeves attached to the shirt. But it might work better if I just belt them to her arm like Draco's rather than attaching them to he shirt.
Tools: Wacom Bamboo tablet, SAI
Reisei (c) =Goddess-Anubis
art (c) myself