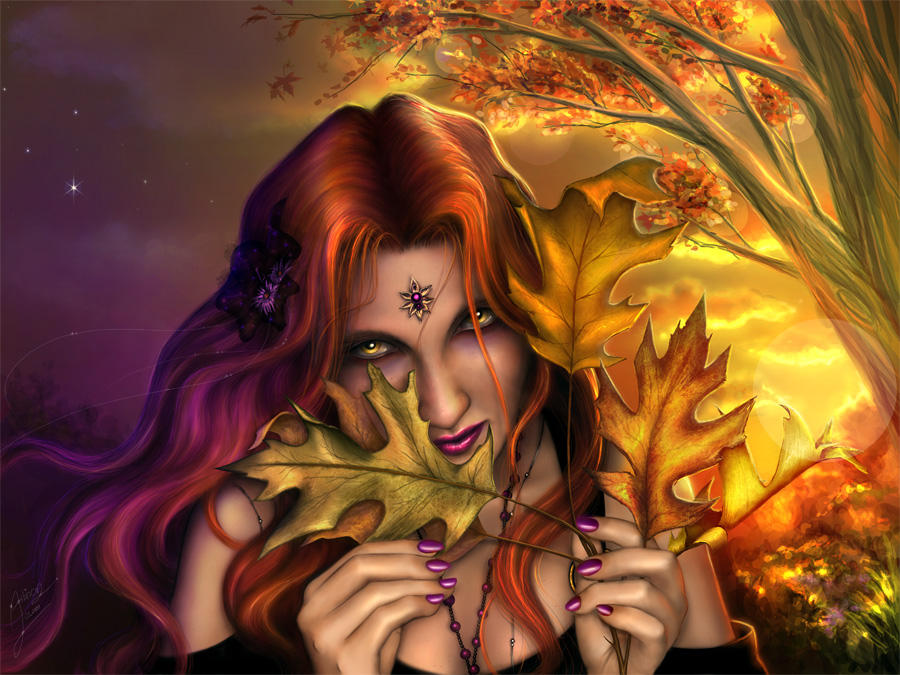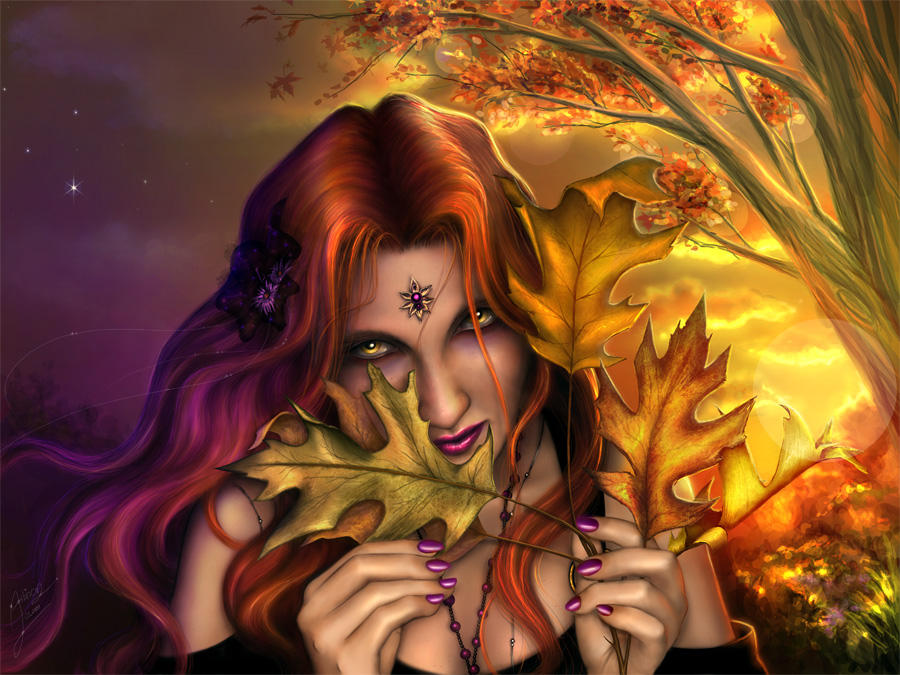 Watch
Autumn Equinox art - inspired by the Persephone myth.
Full digital painting - started ages ago, I'm glad I finally got it out the door.

Edit. Bindi color&contrast fixed
**This is my opinion. Others will differ from mine, and that's okay! Take what is useful and flush the rest!**

Beautifully done with vivid colors and attention to details that really make this piece pop.

Vision: I think you nailed the theme. She is seductive yet innocent, coy and flirty all at once. I love the lighting, and the change from bright to dark just further emphasizes (to me, at least) the duality in this image. It says to me, "We are not one thing only, but many all in one."

Originality: Though similar paintings have been done before, I do feel you've taken this a step further. Your choice of striking, fiery colors really adds to the originality.

Technique: You know your stuff. You seem to have found your favorite tools/brushes/colors and have learned to work them beautifully. **I always feel there is room for improvement, even from the most experienced among us---which means I'll never score a perfect 5 to anyone.** With that said, there is one spot that drew me out of the image and gave me pause. The shine on her upper lip seems off to me. She almost looks as if she's wearing a pencil-thin mustache of light. But other than that, everything else seems perfectly placed, colored, and emphasized.

Impact: Considering I've never felt the desire to crit. a piece before, I'd say this one had an impact all right. I spent at least five minutes looking at and exploring this image and its intricate details.

This is a lovely piece that touches and speaks to me, and as soon as I'm done writing this it will be going into my faves. I don't know you as an artist or a person, but I'll be spending some time in your gallery after I submit this!
The Artist thought this was FAIR
5 out of 5 deviants thought this was fair.
Beautiful work. Drop-dead ga-ga gorgeous but it's got a few flaws in it.

The positive: Your use of color is brilliant. The contrasting colors here make the image pop, and the balance between them is pretty damn good. The composision is balanced, if a little on the busy side. It's eye catching and beautiful. Good anatomy, good concept.

Negative: It's a little on the flat side. You're using a poser model as a reference (I recognise both the shading and the bendy look of her fingers from my own models). There is nothing WRONG with using a poser model as a ref, but certain areas, like fingers, are inaccurate. Do a couple studies using real life or photographs of hands and faces.

Poser refs also severely bork shading with skin. Unless you (1. Turn on subsurface scattering and (2. Are really, really good with Poser, you wind up with plastic skin. When you paint off that ref, you wind up with plastic skin that looks really dirty. I know this, because I used to do this. You can fix this by blending your own color pallate and using those colors instead of the render's. It takes a lot of time, but once you have three or four good pallates, you're golden. Also, use black as a shadow color as a last resort. Use more pinks, purples, browns, ect.

You can push your shading a little bit more by adding a second light source: A thin line of very bright, almost white color down the shadow side of her limbs, hair, leaves, ect. You see that orange line on her dress, on the right side? Put a purple/blue line on the left. This implies three dimensions, visually, and gives everything depth.

Finally, you've crowded your elements around her face. Leaves, hands, jewelry, facial features and hair all "read" as seperate objects, and of those objects, the eyes have the most impact. I think if you dumped one leaf and that thing on her forehead, you'd have a cleaner composition, and a more emphatic image.

To sum up: Good work, lovely idea, good excution. If you continue to use Poser renders as references, use your own colors and boost your anatomical know-how with real life studies. Try simpler compositions in the future. I look forward to seeing more from you.
The Artist thought this was FAIR
8 out of 8 deviants thought this was fair.