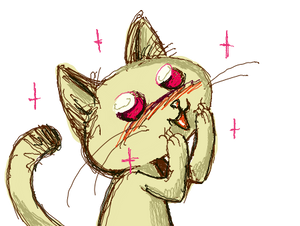 Cupcakes
Joining the Cupcakes grants access to the majority of my sketch work on this account. Things like WIPs of comics, finished pics, sfw pin-ups, and other content I have here will be visible for a Cupcake Subscriber.
---

Kings of Prehispanic World II
Description
Sapay Inca, Atahualpa was the last sovereign of the Inca Empire. He lived during the conquest of Francisco Pizarro, a spanish conquistador. During the meeting of two different worlds, the spaniards offered him a Bible, saying that God says to us in this Book. He examined it and then asked why did it not speak to him. He then threw it to the ground. That gave the Spaniards the excuse they needed to wage war on the Incas. They opened fire, and over the course of two hours more than two thousand Inca soldiers were killed. The Spanish then imprisoned Atahualpa. He promised to fill a large room with gold and promised the Spanish twice that amount in silver. But soon he was acused and was sentenced to execution by burning. But before his death, Atahualpa agreed to be baptized into the Christian faith. He was given the name Juan Santos Atahualpa and then was strangled with a garrote instead of being burned.

***
Sapay Inca, Atahualpa był ostatnim władcą Imperium Inków. Żył w czasach konkwisty Francisco Pizarro, hiszpańskiego konkwistadora. Podczas spotkania tych dwóch różnych kultur, Starego i Nowego Świata, Hiszpanie próbowali nawrócić Atahualpę. Podali mu Biblię mówiąc:"Oto słowo Boże", a Atahualpa przykładając Biblię i do ucha i nie usłyszawszy nic, rzucił ją na ziemię. Hiszpanie więc wypowiedzieli Inkom wojnę. Atahualpa został uwięziony. W zamian za swoje uwolnienie Atahualpa zgodził się ponoć wypełnić dużą salę złotem, a dwie inne - srebrem. Niestey, później, mimo zgromadzonego okupu, Inka został skazany na śmierć. Wyrok skazujący go na spalenie na stosie zamieniono w ostatniej chwili na uduszenie, gdyż skazaniec zgodził się na przyjęcie przed śmiercią chrztu (jako Juan Santos Atahualpa). Został uduszony metodą zwaną garota. Ustawiono go tyłem do słupa, przeciągnięto sznur wokół pala i jego szyi, zakręcono na kiju i dokręcano kij, który stopniowo zaciskał się wokół jego szyi.

No troszkę się rozpisałamXD... Ale chyba niepotrzebnie, bo i tak wiem, że większość tego nie przeczytaU__U"
Image size
600x879px 419.76 KB