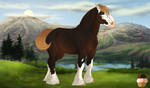 _____________________________________________________


You now flee away from the vicious pack of wild dogs, they weren't far behind you but you managed to disappear down into the tree line. Slowing to a walk to catch your breath, you hear rushing water and head towards it. Coming out to a running river you;



A] Follow the river upstream
B] Cross the river to hide your scent

_____________________________________________________


So, deciding to fight the pack of wild dogs didn't turn out to be the brightest idea. Flicking his ears angrily, Arthur continue to speed through the snow, his many small scraps and scratches smarting as he did so. They were all only superficial, and Arthur knew that within a few days he would all but forget about them. Although he had put some distance between himself and the dogs, the stallion could still hear their searching growls and yips behind him. Snorting, Arthur continued onwards, flicking up chunks of snow as he went. He knew that if they were smart all they'd have to do was follow the trail he was leaving in his wake, and Arthur knew he'd have to find away to stop the trail without stopping himself.
As he galloped along, the mountains stayed steadily to his side, Arthur still wanting to stick close for fear of getting lost. Every now and again the large stallion would turn his head to glance over his shoulder, still fearing the large group of canines would catch up. There was no sign of them so far, but that could change at any moment. Nickering to himself, the stallion slid to a halt as he reached a large river, the upcoming spring air causing the water to rise and run rapidly. It smelt fresh and clean- the large stallion able to see many fish swimming along with the current. The stallion started from his trance however at the sound of a not so distant bark, Arthur swinging his head around to stare behind him with large eyes. Those dogs were, without a single doubt, following his trail.
Cursing under his breath, Arthur hesitated by the water's edge, his breathing quickening as he braced himself for the wet, and probably extremely cold, water. Taking a sharp breath, Arthur plunged into the river, his breathing hitching as the icy cold water enveloped him. Shivering, the stallion took large sweeping strokes forward, his powerful legs pushing him forwards. The river was surprisingly deeper than Arthur thought, the stallion unable to touch his hooves to the sandy bottom. No matter. His breath like fog in the air, Arthur powered his way across the river, eagerly dragging himself up and out the other side, gratefully shaking out the water from his dense coat.
Irritated and now freezing cold, Arthur took in a deep breath as his gaze fell onto the side of the river he just left, he eyes locking with a single dog. Its sides rising and falling at an alarming rate, it seemed it really pushed itself to get here before the others, its tongue hanging forgotten as it panted frantically. There was no way that creature would dare swim across the lively river while being as exhausted as it was, and the stallion smirked widely to himself. He might not have been able to out run them, but he definitely out SWAM them.
Whinnying triumphantly, the large stallion pawed at the ground in a sign of victory and cockiness before trotting away from the river, flicking his short tail from side to side almost like a colt does during play. He could hear the other dogs reach the river as he left, the sounds of their disappointed whines and yips enough to keep a firm smile on his face for the rest of the afternoon.


_____________________________________________________



Total Diamonds: 41



_____________________________________________________

Can I say how proud I legitimately am with this piece!?
Like, I am actually so happy with how the water turned out, I HATE trying to draw water, I never am really happy with the end result, but TODAY! Super pleased with the end result, it really looks like Arthur is chest deep in the river!

My little munchkin hurt himself with the dog attack and what not, so I reckon the next piece of Arthur will be a resting piece!
I also have a few fun side quests that have popped up, so look forward to those too!