UPDATE: Happy Halloween everyone!  We got several great entires for the art jam, thank you all for your participation. There's still time to submit for the jam, I'd allow until friday of this week.
Hey you guys, it's been quite a long while since the last journal has it? Well I thought, since October's around the corner, why not start a Halloween themed art jam?
The theme of course is about Ahsoka dressed up for Halloween, which can be done as a drawing, a fanfic, or whatever other visual medium you can come up, even photography since I recently had added new folders for specific stuff like photos, memes and whatnot.
Remember, this is a jam, not a contest, it's supposed to be a for fun activity that will take the whole month to work on, and you are allowed to make several entries if you wish to.
All entries must be sent specifically to the new folder titled "Halloween art jam 2016"  As they are sent and approved I will be posting them to this journal too.
Entries: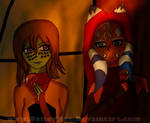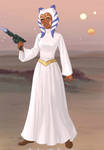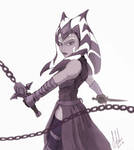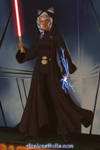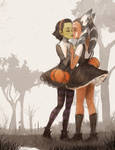 Barrissoka: The Resort Part 2Barrissoka: The Resort Part 2
The sun was setting on Planet Drachenwald, and though festivities would go well into the night, it was time for the Republic troops and their Jedi to return to the ship and to their duties.
Barriss and Ahsoka lingered for a moment, eating a soft candy from a stick. The blue and green candy substance melted in their mouths and they gave a small giggle while Captain Rex manuevered the troops back to their shuttles. The day had gone without incident, which pleased the Jedi and annoyed Rex. The Captain sighed as he was ready to just admit that the large, city sized amusement park was just as it seemed. No dangers ever came about as the troops enjoyed a small vacation filled with rides, meeting young women civilians to flirt with, and plenty of snacks to indulge upon.
But the sinister plots Rex hunted for were not in the Amusement park, but underneath.
The long winding tunnels were of Geonosian make, and ArchDuke Poggle the lesser was de