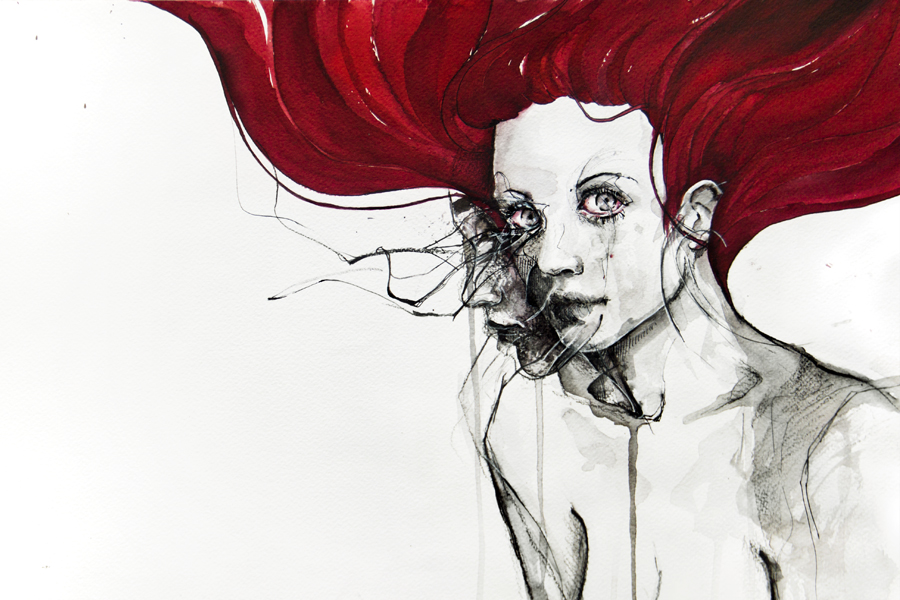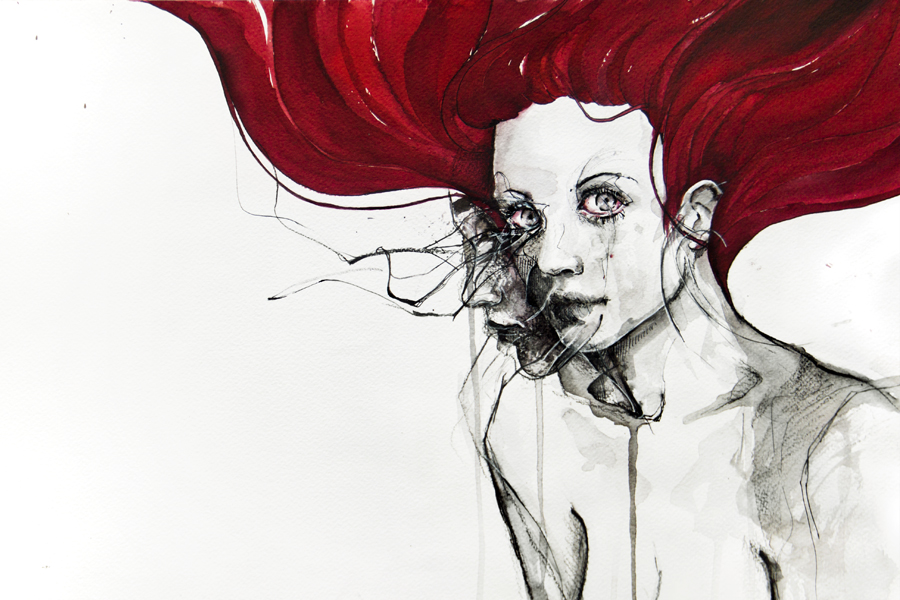 Watch


When you look at me in the flesh, and when you look at me and there is no one.


old stuff
ink, watercolor and pen on paper
45cm x 30cm




EDIT: SOLD
other originals for sale
Absolutely wonderful, i love the black to the red. it really makes it bounce out at you. When i first looked at it i saw this beautiful girl staring back at me, with the hair of a goddess and wonderful lines that show both depth and sorrow in one simple drawing. A striking image to the white background it truly catches the eyes. As i looked closer only than did i realize that there was a second face, so perfectly morphed out of the orginal i could barely notice it at first, rather stunning. It's very neat how i can look through it and feel like the face is slowly morphing out of her body. The image leaves many emotions in me thus giving you the 5 stars on impact, the technique is good, near perfect, but i believe there is still more you can do in future pieces to refine your skill, thus the 4.5. The originality isn't as good, with all the art on this site i can't honestly say i haven't seen something like this before. It is wonderful but it appears to me to be a lot like many other drawings, you just do it better! So i give you a 3.5, but in the area of vision i can tell that the way you have drawn this piece in itself is very new to me, it brings out the shape so well. You have great artistic skill and i love it and so i give you five. If you re-did this drawing and cleaned it to be absolutely perfect to your eyes and sharpened your lines, i would buy a mega sized print of it and make my entire wall. Absolutely love it!
The Artist thought this was FAIR
53 out of 54 deviants thought this was fair.
Wow. Again you have amazed me by creating a piece of art that impacts me so heavily I cannot help but try to understand myself more deeply. It is as if both faces are living in two different worlds, both afflicted by pain and blessed with happiness. An indecisiveness grown from desire for two very different lifestyles. It almost says to me that there is good and bad in everything, but that is just my interpretation based on my own life experiences.

The depth of your pieces is stunning. You handle the technique of lines and shading so well that I forget for a while this is a two dimensional painting. Your values and contrasts are strong. The control you had with using limited color while still creating harmony by using the red from the hair in the eyes is breathtaking. There is also a great sense of economy in this piece with the space in the bottom left corner drawing you in to the image. The rule of thirds is well defined. The thing that catches my attention the most once I can get myself away from staring at those wide innocent eyes is the technique you used for the lips. That is a beautiful example of the parallel lines technique being used non-distractingly in small portions of a piece.

I have seen many pieces like this, I have even done a similar one myself (though yours is technically much better). I still think that you hold something unique with your composition and the emotion conveyed in this though. Usually there is much more contrast in the faces; one face is perfectly happy while the other is in a state of sickening rage or complete depression. I feel that I cannot distinguish such drastic comparisons in the faces here. They are more realistic emotions.

As always I think your vision is incredible. You are an inspiration to me as well as many others.
The Artist thought this was FAIR
66 out of 66 deviants thought this was fair.