And now with the old Help Desk gone, anyone who report things like ban evaders and spammers will have a hard time to find the link to contact the staff. Thankfully, I did a lot of searching and found the "Contact Deviantart" link via from this FAQ:
www.deviantartsupport.com/en/a…
You might need to copy/paste and book mark the link so you may remember where it is and if your FF/Chrome/IE browser gives you crap with the link, like this (and this effects on any computers or laptops like Edge that has Win7/8/10 programs, many thanks to
Cassini90125
for the screen cap and info), :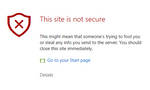 refresh or type the link again (don't ask me why it does that sometimes, the browser is drunk at times).
contact.deviantartsupport.com/…
So now you found it but where to contact them? Click on any of those issues panels and you get the "solve your issue" response but if you go ALL the way to the bottom of it, it will have a "
Did this resolve your issue? If not, please contact us!" under it with the Contact Us highlighted in green.
THIS is where you can report them for bug issues, site stuff, ban evaders/spammers and the like on there.

And if that doesn't work for you, you can contact them in email.

Help@deviantart.com
Violation@deviantART.com
Support@deviantART.com

So I hope this helps you.

And remember, bookmark the link so you can remember it.