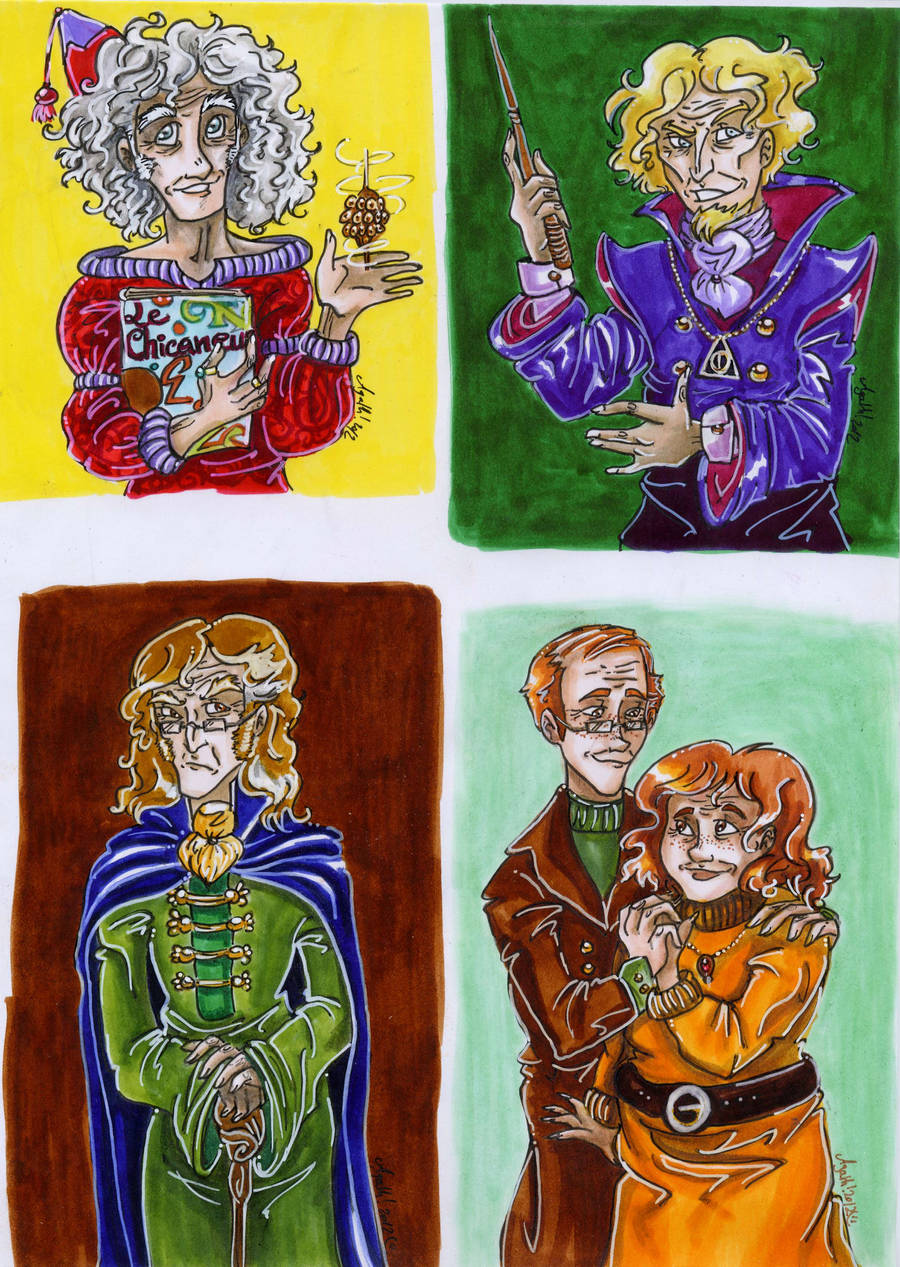 Watch
New set of chocolate frog cards fone for

Left to right, up to bottom: Xenophilius Lovegood ( and yes "Le Chicaneur" is the french name for "the Quibler"), Gellert Grindelwald (and the elder wand), Rufus Scrimgeour and Molly and Arthur Weasley.
And yes, my scanner ruined it ! The colors are much more vivid in real life ! Crap !
Tombow markers
2012
Characters ==> J.K. Rowling
Art==>

More chocolate frogs cards in my gallery (in Obscurs presse's folder)

ohhhhhhhhhh j'adore Molly et Arthur!!!!!!

(les autres aussi sont trop cool, mais j'ai un gros kick sur ces deux-là)
Reply

C'est ceux sur lesquels j'ai pris le plus de plaisir !

J'aime énormément les Weasley ! On a envie de se jeter dans une grosse mêlée de câlins et d'embrassades avec eux !

Merci !

Reply

I love them all! I so adore Molly and Arthur. Next to Lily and James they are my favorite HP couple! Rufus Scrimgeour is one of my favorite minor characters!

Reply

Thank you SO much ! Yes, I really love the Weasley ! They're all so cool ! And Arthur and Molly are so cute together. And they are just deeply "good", true humain beings with hearts of gold. I love them !

And yes, I do love James and Lily too ! A chocolate frog card with them is planned, but it will be my dear friend

who will draw them !

Oh, a Scrimgeour's fan ! That's unusual !

Thank you so much for your support !

Reply

héhé elles sont super ces carte de choco-grenouille

il ne manque plus qu'elle bouge

Reply

Ça c'est pour ne pas avoir de soucis avec le Ministère. Si elles bougeaient, ça ferait louches sur les salons, avec tous ces moldus autour...Déjà qu'on a eu du mal à avoir notre dérogation...
Ravie qu'elles te plaisent, néanmoins !

Reply