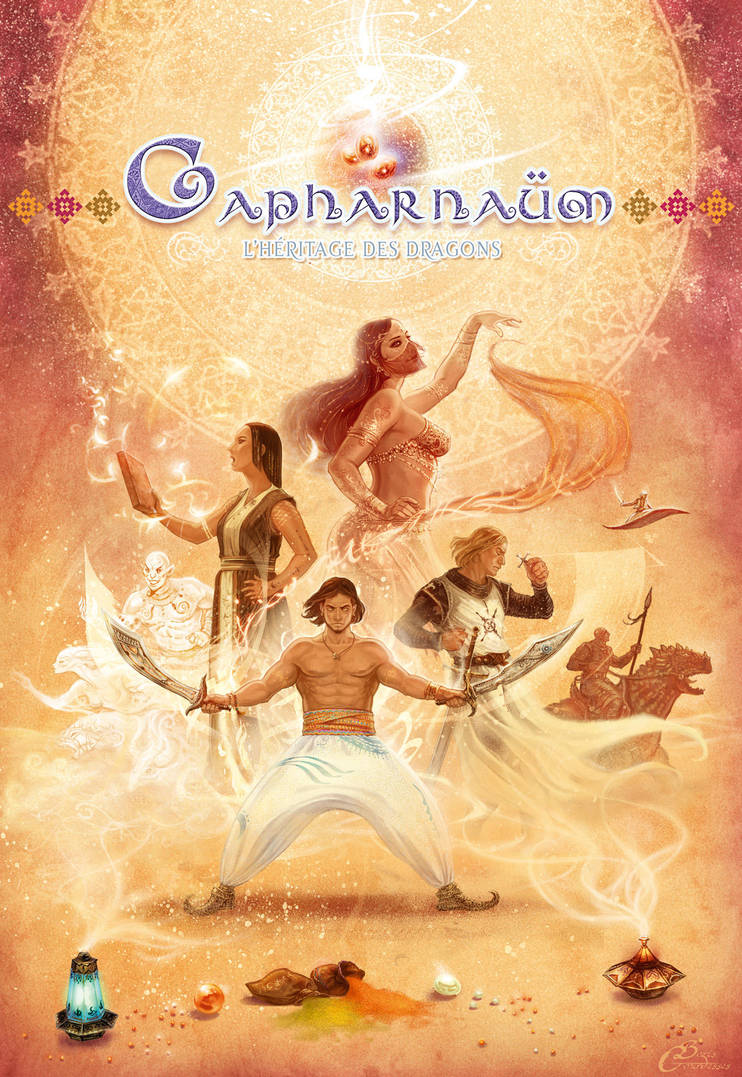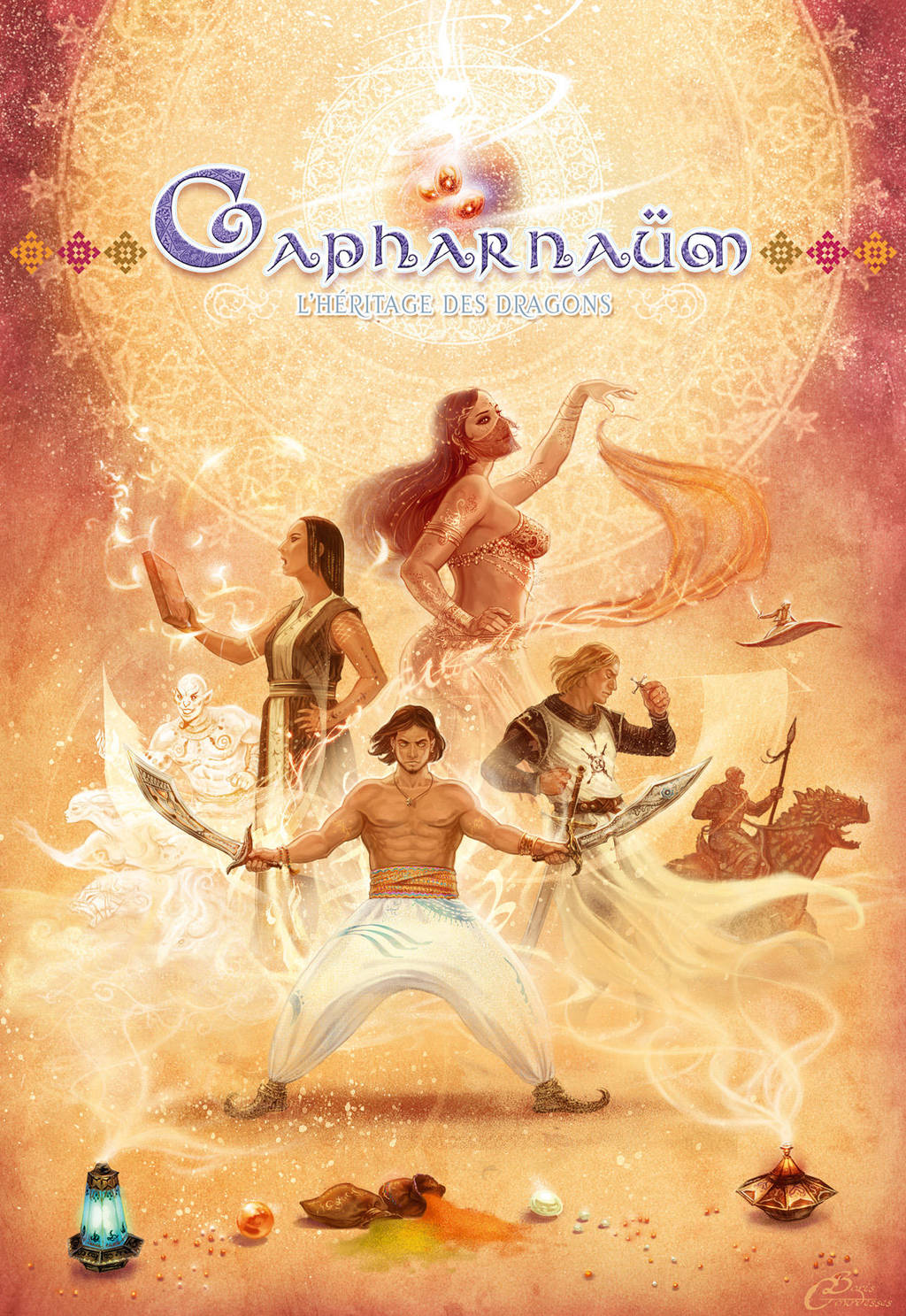 2007
NO LOGO VERSION :
CAPHARNAUM, THE TALES OF THE DRAGON-MARKED
, is a tabletop roleplaying game where you play Dragon-Marked, heroic individuals with a special destiny. The game has heavy oriental, ancient and mediaeval influences from our own world and offer bewitching mediterranean and middle-eastern ambiances. It is an invitation to discovery, journey and exoticim !
CAPHARNAUM
was developped by
Deadcrows Studio
, of which I am a member, and has a world dear to my heart.
The original cover art
was created in 2007. It was a very different work from
Nightprowler
(done one year earlier). Indeed, this time, I did not want to draw a landscape but to create a composition with representative items and concepts from the game and its world. In the end, that was more difficult than for Nightprowler.
Thus we can see several archetypal characters in a dynamic and colorful composition that evokes, I hope, a world full of heroic adventures, magic, sun and heat...


The logo
is a symbolic and stylised sun, in the center of which are World-Eggs, draconic artefacts who contain the power of the stars and the energy of creation...
-------------------------
CAPHARNAÜM, L'Héritage des dragons (avec logo)


CAPHARNAÜM, l'Héritage des dragons
, est un jeu de rôle qui vous permet d'incarner des Héritiers des dragons, des élus promis à un grand destin. Le décor du jeu s'inspire de la matière antique et médiévale pour créer un monde inédit, à l'envoutante ambiance méditerranéenne et moyen orientale. Capharnaüm se veut une invitation au voyage, à la découverte et à l'exotisme !
Il a été développé par le
Studio Deadcrows
, dont je fais partie, et c'est un univers qui me tient particulièrement à cœur.
La couverture originale du jeu
a été réalisée en 2007. Je souhaitais partir dans une toute autre direction que pour la
couverture de Nightprowler
, réalisée un an plus tôt. Aussi l'ambiance ne passe-t-elle pas ici par un décor mais par une mosaïque d'éléments représentatifs de l'univers du jeu et de ses concepts les plus importants. L'exercice fut bien moins évident à réaliser que pour Nightprowler cependant ! Ainsi peut-on y voir plusieurs archétypes de personnages au sein d'une composition dynamique et colorée, évoquant, je l'espère, un univers d'aventures plein d'héroïsme, de magie, de soleil et de chaleur...
Le logo du jeu
est symbolique, avec un soleil stylisé qui possède en son cœur des Oeuf-univers, artefacts draconiques mythiques qui contiennent en eux la puissance des étoiles et l'énergie de la création...