I hope you see this
JW-Jeong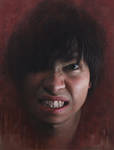 Last night I saw your incredible new work  pop up in my facebook feed,  I was struck with disbelief and just had to check out the rest of your creations.
I did so and still couldn't believe that they where real; a part of this was most likely stupid jealousy from my side.
The first "irregularity" that I found is something that I now find incredibly stupid. The flawed structure that we call the my brain  actually first latched onto was the fact that the exif info of your self portrait stated that it was taken by a camera, apparently I thought that paintings just magically appear on DA as they are created.
Me trying to rationalize this first stupid error of mine and find some fault to hang on to was probably what was my driving force throughout all my later accusations.
After a lot of consideration and looking on your other works, not wanting to hurt the credibility of someone unjustly, I made a first comment that mentioned that your incredible self portrait exif data said that a camera was used and that you later used photoshop, with my faulty logic reasoning this translated to an original picture taken and then made look like a painting in photoshop... this stupidity of mine baffles me.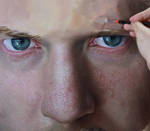 After that I started looking at your other works in more detail i found this I still think it looks fake, it is just too fucking good and I think it should get included in the next installment of this series:
www.cracked.com/article_19975_…
.
Stupidity strikes again! I noticed that the date stated that it was taken in 2012. Seeing this I looked through your other works and found the same detail in many of your other works, What I did not notice was that most of them also stated that the photos where taken around exactly the same date in 2012 as they where uploaded in 2013...  anyone should make the connection that the year was set wrong on the camera in question, and alas later I noticed this but I was way too riled up to be objective and point that fact out.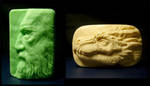 And then I saw this  and I thought:
"So this bastard achieves hyperrealism with acrylic and charcoal AND he can carve soap awesomely? Hell no, this shite can't be real!"
Fueled by jealousy I scrutinized that one and with a  "AHA!" I found just what I was looking for, the exif data stated that it was taken in 2006!
"he must have just found this somewhere on the internet!" I thought, and I actually tried googling to find it, I got no results but was on way too riled up to stop and think.
With Wagners Ride of the Valkyries playing in the back of my head I continued my crusade, creating one post with all my accusations, stating that people should make up their own mind, I then posted this all over the place and thought, "now we will get this cheating motherfucker!"
I actually backed up all of the exif datas and all of your submissions in screen shots and downloaded your actual works, and also my accusative post so that I could spam you with it from alt accounts, should you block me and remove my comments.
For some reason I also also took a screenshot of your statistics, thinking I would create a article about fraudulent artists on DA when it had all blown over and you where rightfully banned
I should mention that when I started this war upon your credulity the time was just around bedtime for me and that my clock now showed that the time was three hours past midnight
Just after brushing my teeth and on my way to the bed for some well deserved sleep I went back for one last check to see if my posts where having any effect.
"the bastard has banned me?, he must be an evildoer!"
After this I answered some comments on my posts in the posters own profiles, banned as I was.
After this my tiredness got the best of me and I went to bed, lying awake for quite a while thinking about the posts I would do today and the armies I would muster against you, after you had removed all traces of my brave work to cover for yourself.
With a nights sleep and with the edge taken out of me I went to my computer expecting a cover-up, what I was met with was something entirely different.
You had stood up to my accusations and posted a journal wherein you pointed out my stupidity, I was at once filled with a terrible dread.
I did know that there was a certain chance that you where in the right, and I was ready to take that chance to point out a cheater that close to 100 000 others had not dared to point out.
I was very wrong though...  and now I had damaged the reputation of an awesometastic artist, you that is, Mr
JW-Jeong
.
That was when I knew I had to skip going to school and write this apology.
I believe that there could exist fakes like what I thought you where here on DA, and due to the 'don't say anything hurtful' culture that is rampant here I think most are never pointed out, so I think we should be able to point them out, that part of my doings I see nothing wrong with.
What I was wrong to do was to accuse you on such unfounded grounds, I did think your album looked somewhat shady, and a part of me still do but I should have had better grounds than that, and for that I am eternally sorry.
I hope I could visit your studio in Seoul if I ever visit South Korea, If you would have me.
TL;DR
I was an incredibly stupid motherfucker of a fool and wrongfully pointed out the phenomenal
JW-Jeong
as a fake, for which I am profoundly sorry.