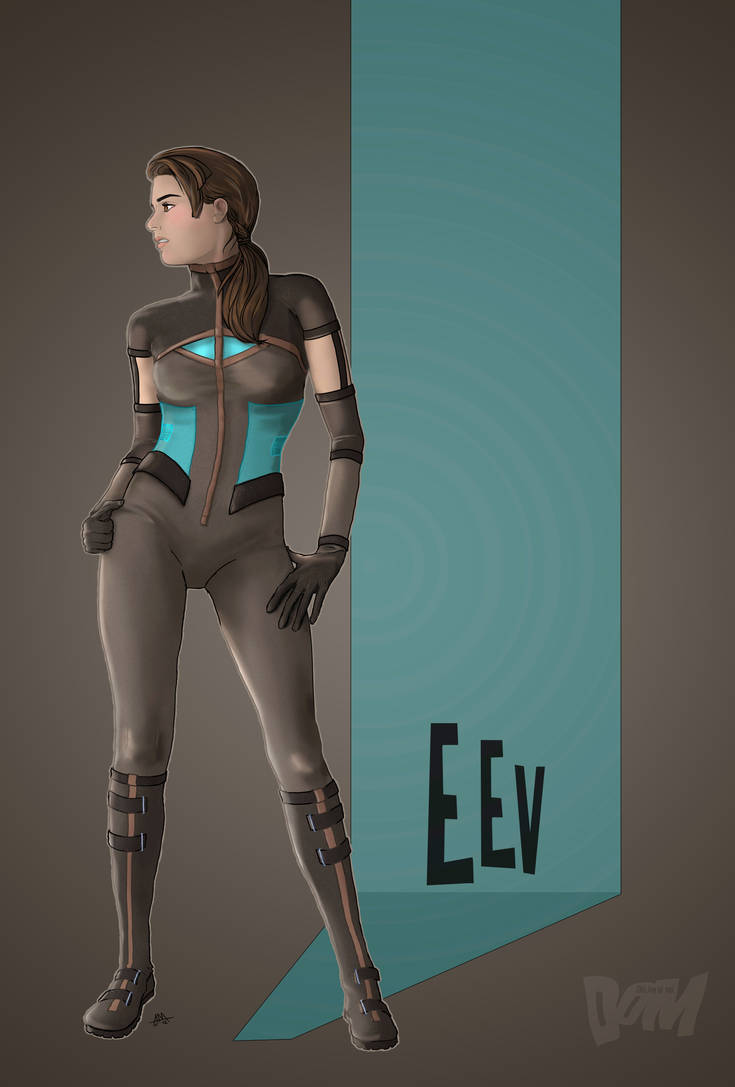 Watch
Number three in the series! Her name is Eev and she is one of the leading ladies of my movie/comic script DoM - Dream of Me.
Lineart:
Other characters of Dream of Me:
ABOUT EEV:
Age/Sign:
19, Aquarius
Role
: competitor, survivor, martyr
Totem Animal:
Domestic cat
Colors:
Turquoise/tan


Commissions
:
Background
Eev, like Cecile, comes from a family with little influence due to the lack of mental gifts in her lineage. Eev spent most of her youth on the streets, playing games, breaking things, scaring people for fun, though she never really did any harm. Nevertheless she got noticed thanks to her extraordinary physical skills and was basically recruited on the spot by a seer at a time when the Academy was desperate for physical students. This gave Eev a great boost in confidence and she disciplined herself to become the best hunter ever. And she secretly believes to have achieved that goal. She has severed all ties with her family, believing them to be beneath her and to never have cared about her anyway.
Gifts
:
With extraordinary speed and strength and a little resilience towards injury she is an amazing fighter! Her task is to get people out of trouble while doing as much damage as possible. And she is very good at it.
Personality
:
Lacks a true sense of self worth as well as self awareness. Not one to analyse or question herself often. She is obedient because it serves her need to rise up the ranks, self-righteous, competitive, provocative, tough, sensitive. She respects Tanea and Cecile for their skills. Otherwise she doesn't mix well with women. She is not offended by not being liked and even pretends to like it. Eev thinks of herself as a very gifted, skilled, efficient and smart adult. She dislikes people who she perceives as weak. She finds Kaelee's calm and confident nature irritating, tells herself that she simply hates her arrogance, considers her weak for her quiet nature, but secretly she admires her for exactly those qualities.
Mission
:
She longs for nothing more than acceptance and love. In order to hide this subconscious weakness she pushes people away. The lack of these basic human needs have made her a survivor: One that seeks to fill that hole inside of her by strictly pursuing her own interests: raising her status, becoming self sufficient ("I don't need anybody! Least of all YOU. And one day you will follow ME."). She is good and wants to do good. She wants to go down in history as a hero and is willing to become the villain in present times to achieve this.
VISUALS
:
athletic build, but less broad than Tanea. Olive skin, dark brown hair and eyes, cute stubby nose. A young woman with a tormented child inside. Hair is tied up in a low ponytail. Her hair would fall a little below her shoulder blades.
Her costume is geared towards mobility, much like Cecile's, but with a little extra padding here and there because Eev actually does get close to the enemy for surgical strikes.