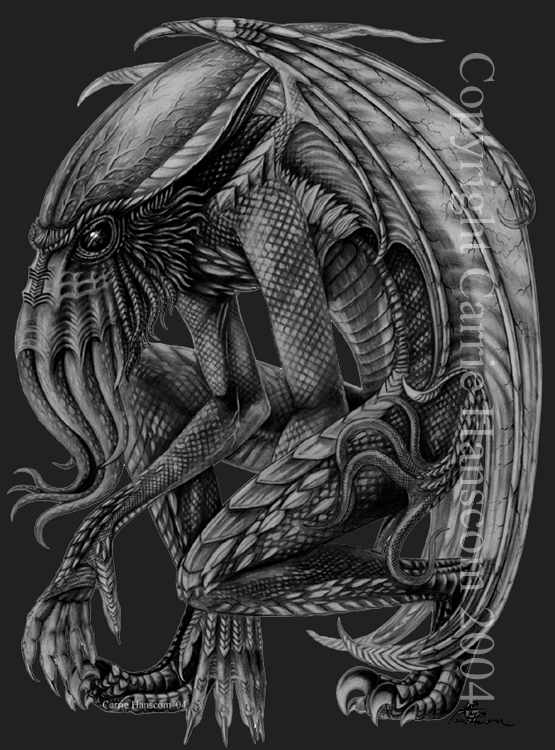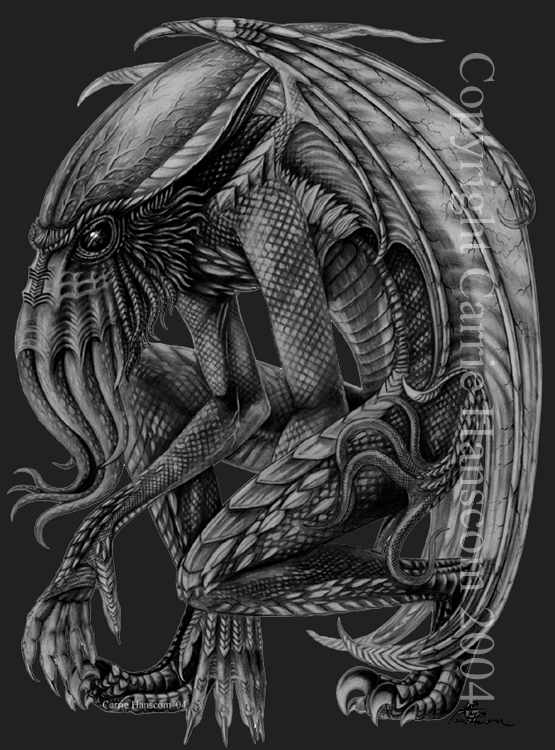 Watch
This is an old picture.
I have a newer digital one, and after 9 months it STILL does not show up in DA's oh so great search engine (which annoys me because I like the new one more).
Anyway -
New Cthulhu is here

-
I had to do a Lovecraft-based pic sometime...So, here one is... (I uploaded a fairly big pic so full view for the better image).
I know these things (based on the writings) are supposed to be kind of bloated or fat, but that didn't want to work for me on the page (just some possibilities: the cthulhu described in the writings were overweight specimins, or hey, maybe they've been trimming down, getting into shape in preparation for astrological developments...). I tried to make some parts of this thing semi-transparent, and semi succeeded. I also played with the hands a bit, because I am always a sucker for myth-mixing...
A story with this one though (oh it HAD to have a story): About after the second day into this picture, this MASSIVE thunderstorm passed through while I was asleep at about 3.30 AM. I had been working on this thing till past 2 that night at least, so I had Cthulhu on the brain I guess. I managed to work the sound of the thunderstorm into my dreams, and before finally being woken up by all the noise, dreamt I was on the ocean somewhere while it was pitchblack except for the lightening, and when it flashed, I could see all these mountains on the horizon beyond the water and behind the mountains all these giant tentacles rising up. Somehow I got it into my mind that some kind of Cthulhu THING was coming to kill me because of my trying to draw it... I woke up pretty dissorrientated and it actually took me a few seconds to realize that I wasn't going to be eaten... (because I woke up and all the noise from my dream was still continuing). In the future I guess I'll have to work on these types of drawings prior to 2 AM