This is gonna be a little long. Please check out the tl;dr at the bottom if you wanna skip it. But I could really use your opinions!
So, a few years back I developed a condition that has drastically slowed me down in every possible way. It's been a major upheaval to every facet of my life and I'm still adjusting to it. I'm on medicine, but the condition can't be cured. It's not really deadly, so it's not a huuuge deal, but it's made me very slow.
And the problem is, I really love painting so much. It's my favorite way to draw now. But I'm depressingly slow about it. It takes me days to finish one pic, with on and off work.
So I've been toying with the idea of changing up my style and moving away from total painting to only partial painting. You can check out these two pieces below to see the difference of what I mean:
Painted: Partially painted: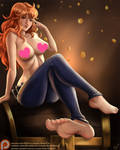 The major difference is lineart.
Which style do you like better? Or does it not even matter that much?
I'm still going to stick to drawing fanart, because that's honestly what I prefer to draw. My thinking is a lot slower and my creativity has been REALLY damaged by the condition, so fanart makes my drawing life loads easier. So you'll still see the same content from me, just done a little differently. If you were going to commission me, would you mind getting the partially painted one instead of painted?
tl;dr: Would you mind if the partially painted style replaced my painted style, if it meant I could work faster/potentially churn out more work than I currently do? What about as far as commissions go?