.
Names you should know: *B-r-a-c-i-a-t-a
The Rising Stars in Photomanipulation interview series focuses on upcoming rock stars from the photomanipulation community whose names you really ought to know! This week I am so excited to introduce you to someone who not only demonstrates tremendous skill in our medium, but also gives generously to the community via the creation of incredibly clean, well-composed tutorials.
I am happy for you to meet
FP-Digital-Art
, an Italian artist who has been with us on dA for a bit more than a year. Please enjoy the interview that he was so kind to give, and don't forget to take a moment to check out his gallery!
*B-r-a-c-i-a-t-a's Interview
So, let's start with your program of choice: Photoshop, GIMP, PSP, or other?
Photoshop.
How did you get into photomanipulation?
My friend Anja (
D-E-S-T-I-N-Y-0105
) showed me some of her digital works two years ago, and that's when I knew about dA for the first time. I was hit by the Digital world, especially by the Photomanipulations. I didn't know people could do such things!
Since I was fascinated I tried some easy things like swapping faces, changing backgrounds... I found it funny and amazing so I started to get into it more and more.
If you click through the photomanipulation galleries, you will see that a lot of the art has the same themes. Where can manipulators find inspiration for new and unique things to create?
That's true. I think the best inspiration is real life. If you browse the web you can get inspiration but it will always be someone else's ideas. This is not bad if you start from there and you do your own work. But I
think if you think of your dreams, your experiences in life you will surely find your way. I am inspired also by music, it gives a lot of emotions; lyrics are always little stories we can represent.
How do you see your own portfolio? (How would you describe your art?)
At the beginning I tried to do a lot of different things, and this is because I hadn't my personal style. Lately people tell me they can recognize my touch in my works and I am happy about that. My gallery is full of portrait photomanipulations. This is what I do mostly because I like to overpaint and to work on faces details, you know that 'painted look'!
I did a lot of works with melancholic ladies but lately I started again to try to make something different, with animals for examples.
This is because I think I achieved an acceptable level on 'sad ladies', so I wanted to experience something new and maybe to learn some new techniques.
As you've worked hard to build your skills, what has been the most frustrating part, and how did you overcome it?
It's been difficult. Two years ago I opened Photoshop for the first time and I used it only to crop and resize pictures! The saddest thing has been people of this community. I won't make any name but I asked help to a lot of famous people at the beginning and they completely ignored me. But fortunately dA is like the real
world... There are good and bad things! In fact I knew also a lot of beautiful people on my way and I want to thank them for supporting me all the time.

How did I overcome this? Well, I am a very determined person, and I want to achieve results no matter what happens around me. So I started to study Photoshop a lot by myself (still doing it!). That's why eventually I want to thank also all those people who never answered me because I have to admit that practicing is the key to grow!
What helped you most as you worked your way up and gained more experience?
I think tutorials helped me a lot, both inside and outside dA. When you start from zero they are really helpful. But as I said before, practicing is the best way. You can follow tuts to the letter but then you have to try your ideas with what you have learnt. If you read a tutorial about painting hair for example, you have to paint hair several times before you can say you are able to do it. Just reading a guide it doesn't mean you can do it!
I am a little bit maniacal about being better; for example I always write down all new things I have learned. It's a bit like when I went to school but this is amazing!
Another thing I suggest to people is to make collaborations. I did some with talented artists and I learned new techniques.
Show me one piece of work that you think is fantastic but doesn't have enough recognition. What do you think is great about it?
Maybe this one: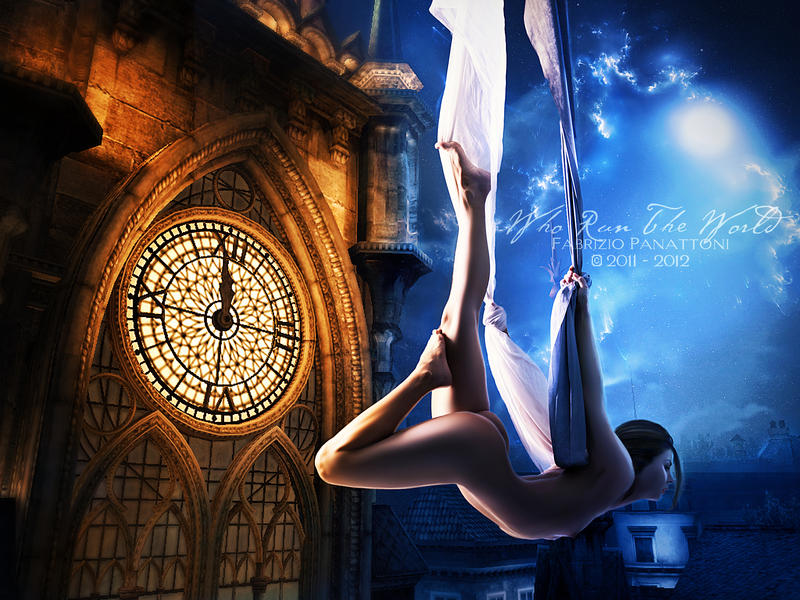 First of all I like the concept. It's inspired by Beyoncè's song 'Who run the world'. The answer she gives is: 'Girls'. I think women rules, like they have something more than men, maybe that sixth sense we always talk about!
I tried to make the scene so that the lady rules the world coming from high. She is strong and naked, and that means she doesn't need extra things to rule but just her way to be woman.
If I look at the manipulation I can tell I like the light work. I didn't mark highlights a lot but this is intentional; I don't like to mark highlights because they could seem fake. I also like the contrast between gold and light blue, I think these two colors are good together.
Finally, what do we need to be doing as a photomanipulation community to continue to grow and evolve?
I think the effort you and many other artists are doing is great. Opening all these groups about feedback, reviewing, contents... can only help artists to challenge themselves and to grow with constructive critiques.
When I think about my beginning I remember tutorials helped me a lot, that's why I write them. I know I am not one of the biggest artists around but I hope people can learn something from my tips. And when they thank me for my tutorials I feel good because I helped someone who was in need. If everyone could share a tip we all would be better!
Thank you so much, Fabrizio! I learned a lot from your wise words, and I'm sure our readers did, too!
And now for the feature . . .