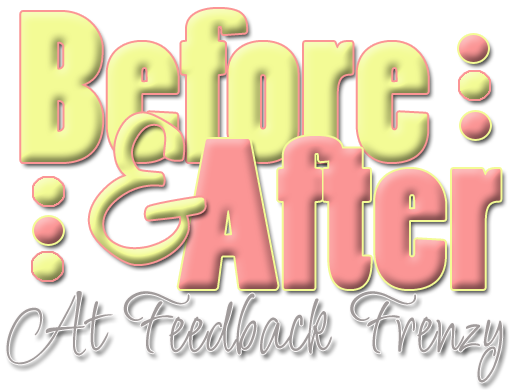 Something AWESOME this way comes!



Guess what?!!

As a final close-out to our Project Educate: Feedback Week, we have one more special treat!

You've critiqued like crazy, and you received some great critiques as well! Awesome job!! But what good are critiques if you don't ever use them?

The first ever Feedback Frenzy Contest is nearly to a close. Fellow deviants, it's time to put those critiques into action!




What is it?



The Before & After competition is a chance for you to take the critiques you received on an OLD work and put them into action in a NEW work. You are not redoing an old deviation, but rather using what you have learned in a brand new one. This is a Community Relations-backed competition, and we would love for you to participate!



When is it?



The Before & After competition will run from the time the Feedback Frenzy competition closes (July 8th at 11:59 PM PST) to August 31st at 11:59 PM PST. So, basically your final deviations, which you created with feedback in mind, must be created AND submitted between 09 July and 31 August, 2012. That's nearly two full months!




What do I do?



STEP 1.
RIGHT AWAY (July 9th or later, but as soon as you know you are going to enter), you need to submit up to 2 "Before" deviations to
FeedbackFrenzy
in
the BEFORE DEVIATIONS FOR BA CONTEST Gallery folder.
THIS MUST BE DONE BY JULY 16th at 11:59 PM PST.
This should be a deviation you like but, more importantly, one for which you received feedback from which you really feel you can learn. Again, we must stress: You will NOT be remaking this specific deviation; you will be creating a new image based on the feedback. The FEEDBACK is what is
most important: is this feedback you can use to create something new? Choose wisely, as you cannot switch the deviation(s) out later.
We will be comparing the old deviation(s) with the new deviation with respect to adherence to the feedback and guidance you were given. If they told you to make your lighting more consistent, did you try to do so? HINT: Make sure there is room for improvement in the original deviation(s).

STEP 2.
Create a NEW deviation. Start from scratch; don't deconstruct and reconstruct the old deviation. It should, however, be somewhat related in that you are improving a technique or skill that you also used in the first deviation. So, for example, let's say you were told to add some depth to your foreground trees, and that's a piece of feedback you wanted to use. Then, obviously, you'd need foreground trees or some other foreground object to which depth could be added when you make the contest deviation. Similarly, if you were told to make lighting more consistent in your original deviation, then in the contest deviation you would clearly need to show a light source and how it consistently impacts other items in that scene. But again, you are not recreating the same deviation. Be creative.
If you didn't participate in Feedback Frenzy, it's okay. Any piece you have done recently (past 3 months) that you received constructive critique or feedback on will be fine.




How do I submit?



When you have finished your new deviation, you can submit it to deviantART in this gallery:
CONTESTS > 2012 > BEFORE & AFTER FEEDBACK
Note that this is a gallery on dA and not in the group. So, you would select it as your category when you actually submit the deviation to the site.
IMPORTANT: In your artist's comments, please copy and paste a link or thumb to the "Before" image and the feedback or critique(s) you used to create the image. We'd like to know which comments from it you used. Comments from other deviations besides the "Before" entry will not be considered.
Also IMPORTANT: In your artist's comments, please state that your deviation is an entry into the
BEFORE & AFTER FEEDBACK CONTEST.
You can only enter one time, so be careful to do your best work!




Other rules




You may NOT edit the original ("Before") deviation following the start of the contest. You will automatically be disqualified if you do.

Please put a filter over any mature deviations.

If your work uses stock or resources, please be sure to credit those items with direct links.

Your work must be your own. No collaborations. This is NOT a team competition.

All entries must be received by 11:59 PM PST on 31 August, 2012.



Prizes



Thanks to the generosity of
Moonbeam13
and Community Relations here on deviantART, we have the following prizes to offer:
First place:
One-year subscription to dA
3200 deviantART points
Choice of Fella or Llama plushie
Second place:
6-month subscription to dA
2400 deviantART points
DeviantARTt-shirt or baseball cap
Third place:
3-month subscription to dA
1600 deviantART points
Sticker pack




Too long, didn't read?




1. Before July 16th, submit no more than two "Before" deviations (deviations for which you've received great feedback) here:
feedbackfrenzy.deviantart.com/…
2. Create a NEW deviation based on the FEEDBACK you received on your "Before" deviation
3. Submit this deviation under Contests > 2012 > Before and After Feedback no later than 11:59 PM PST on August 31st, 2012
4. If you have further questions, please read the blog above, and if you still have questions, note
FeedbackFrenzy
.

Thanks, and good luck!

.